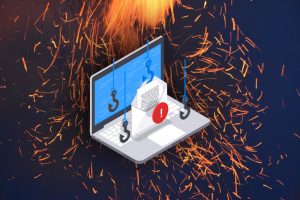 October is cybersecurity awareness month, so now is the time to learn what businesses are at a higher risk! 90% of successful cyberattacks occur through email-based attacks. These attacks use deceptive social engineering techniques.
In the beginning of 2020, 4.1 billion data records were exposed, while the average time needed to detect a leak was 206 days. For businesses, the average loss caused by a data breach is estimated at $3.86 million. Cyberattacks will create over $5 trillion in losses globally in the next year.
Keepnett Labs revealed the most vulnerable departments and sectors against phishing attacks, based on data of 410,000 phishing emails, covering a period of one year.
Top 5 sectors with the highest click rates on malicious links in phishing emails:
Consulting (63%)
Clothing and Accessories (48%)
Education (47%)
Technology (40%)
Holdings/Conglomerates (32.37%)
Top 3 corporate departments most affected by cyberattacks:
Law/Audit/Internal Control (59%)
Procurement/Administrative Affairs (58%)
Quality Management/Health (56%)
1 out of 8 people share the information requested by attackers:
1 out of 2 employees open and read phishing emails
1 out of 3 employees clicks links or opens file attachments in phishing emails
1 out of 8 employees shares the information requested in phishing emails
The statistics show certain departments and sectors are prone to share sensitive information compared to others. With increased security and employee IT training, these businesses can decrease the risk of data loss.
-
-
-
https://www.helpnetsecurity.com/2020/09/16/vulnerable-departments-sectors-phishing-attacks/?fbclid=IwAR1BIHyQtvzJNWx1GSRjhKvDDCVXI478lwVCD0MwWpmDiOQPIaOwyY_DTpk