It's a new start to the year, and what better way to begin 2021 than by keeping your workplace organized? This does not only mean your physical workspace, but also your daily tasks and online organization. If you're struggling to stay on top of your work tasks and need a little bit of a boost, there are many apps that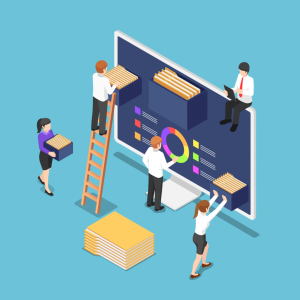 can help you out.
Asana helps your business improve communication and collaboration. You can view all tasks and projects and follow progress on a communal board so you can communicate without having to rely on e-mail. This platform ensures that a company is able to:
Hit goals within a timely and efficient manner
Hit deadlines through use of timelines
Keep track of priorities
Not worry about the small manual tasks such as reducing errors and simplifying workflows
Streamline work requests
Monitor the status of key initiatives in real time
Organize work however or whenever you want
Manage employees' workloads by making plans clear for everyone
Share, track, and control data
Connect with tools and other apps such as Gmail, Slack, Zoom, Outlook, and Microsoft Teams.
Features that aid in guaranteeing that all of these are checked off for a company include their Portfolios, Goals, Forms, Timeline, Automation, and Workload, among others.
For these reasons, Asana has been sought out by businesses on a global level. Asana is a well-known organizational service and many use it to benefit their companies. Some major companies include Danone, The New York Times, NASA, and Spotify. Business Development Manager Tamas Kadar, from Air France KLM Group says that "Asana has become the cornerstone of project management for the Shared Services Center. It has enabled our small team of six to migrate services and implement new tools effectively and efficiently that impact all 1,500 of our employees and other users around the world."
Responsive Technology Partners recommends Asana to companies who may be struggling or even may just want a little bit of extra help in organizing their day-to-day. Microsoft Teams offers a similar app, Tasks by Planner, that can also be beneficial. This may be of help to our clients seeing as Responsive Technology Partners provides Microsoft Teams.
As an Office 365 Service, this tool is easy-to-use. It allows its user to plan tasks and handle small projects without complex planning effort. Like Asana, it offers a multitude of services such as:
Efficiently assign and organize times tasks
Set deadlines
Share files
Managing small projects
Linking Project Online Client via a standard interface or via third-party tools
Team members are able to communicate with each other, like all other Microsoft Teams tools
While Tasks and Asana have many similar management tools, it should be noted that Microsoft Planner is beneficial especially because of its important advantage of integrating in the Microsoft Office 365 environment which includes Outlook, SharePoint and Teams to name a few.
There are many apps that can beneficial to you and your company's organizational management. Besides Microsoft's Tasks by Planner and Asana, take a look at others that may match your needs as well. Proven helps organize your hiring process by posting listings to multiple job boards with one click. You can also review and sort applicants with ease. Boxmeup organizes and tracks your packages, containers and bulk storage items to make storing and shipping a breeze. Evernote keeps all your notes organized in one place and allows you to easily share notes and lists with co-workers. Trello tracks your team's workflow. Whenever you make a change to a project or task, the app notifies each team member involved so you don't have to. KanbanFlow helps managers visualize overall workflow. It gives overviews of work status, tracks progress and assigns tasks to team members.
At the very bottom of all of this, it is very important to remind oneself that organizing your tasks, whether with an app, company, or even just a list, makes everything much more manageable. Being able to see your tasks clearly outlined before you, both complot and incomplete, will help you and your employees and coworkers feel more organized and stay mentally focused on the job at hand.
Did you like this blog post? Learn more on our newsletter: https://www.responsivetechnologypartners.com/december-2020-january-2021-newsletter/
https://asana.com/uses/organization
https://www.theprojectgroup.com/en/office-365-microsoft-planner#:~:text=Microsoft%20Planner%20is%20a%20web%2Dbased%20tool%20for%20work%20management.&text=With%20Microsoft%20Planner%2C%20you%20can,such%20as%20Asana%20or%20Trello.
https://www.nerdwallet.com/article/small-business/20-apps-small-business-owners
https://www.toodledo.com/info/whyuse.php#:~:text=One%20of%20the%20most%20important,organized%20and%20stay%20mentally%20focused.