At the 2021 Technology Marketing Toolkit Bootcamp, I had the honor of learning from incredible speakers, including Shark Tank's Kevin O'Leary, The Profit's Marcus Lemonis, and Technology Marketing Toolkit's very own Robin Robins. They gave me and the rest of the audience amazing ideas that we could take back and implement into our company. During the Better Your Best Presentations, we were able to learn from top 5 most successful Managed Service Provider owners, who shared what they have been doing in their businesses to make it as successful as they are today.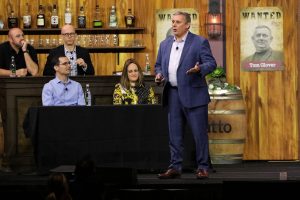 From Responsive Technology Partner's Tom Glover, I simply learned to not suck. He expressed that although ideas are great, it is the successful execution of those great ideas that will make a difference in your company. Tom showed how this resulted in not only one year of greatness but will allow for years of greatness, leading to not only meeting your goals but blowing those goals away and meeting them early.
From, Mike Bazar, I was able to learn the power of one. Creating and sustaining momentum can create success in business, and you never know when you need one more thing to get that momentum going. He explained the importance of not only having great ideas, but also having effective and motivated team members to help get that momentum going.
From Ross Brouse, I learned the importance of not only consistency, but how to make that consistency healthy. It is important to be consistent in your actions, and to not give up when something isn't successful the first time, but to perfect it until it works. Ross also explained how he was able to find a balance between prioritizing family and mental health, while being a business owner, and how investing in yourself can help you become better for your business.
From Neal Juern, I was able to understand more about the importance of brand recognition and getting your name out there. He emphasized
how important marketing is, and how he incorporates marketing into his daily and family life, to create the most successful business as possible. If a company does not have any sales and marketing, then they will remain the size that they, and marketing is the greatest way to grow your business.
From Leah Freiman, I was able to learn how her entire life and company bows down to her why. It is important to use everything you are given in life and make it into something successful. Most of all, I learned from Leah that no matter what is happening, COVID, cancer, special needs, or all of the above, there is no excuse to be unsuccessful.
Although every business owner had their own success stories, it was a wonderful experience to be able to learn so much about what to do and what not to do, when starting your own business, from people with first-hand experience.
Vanessa Farley, Marketing Coordinator