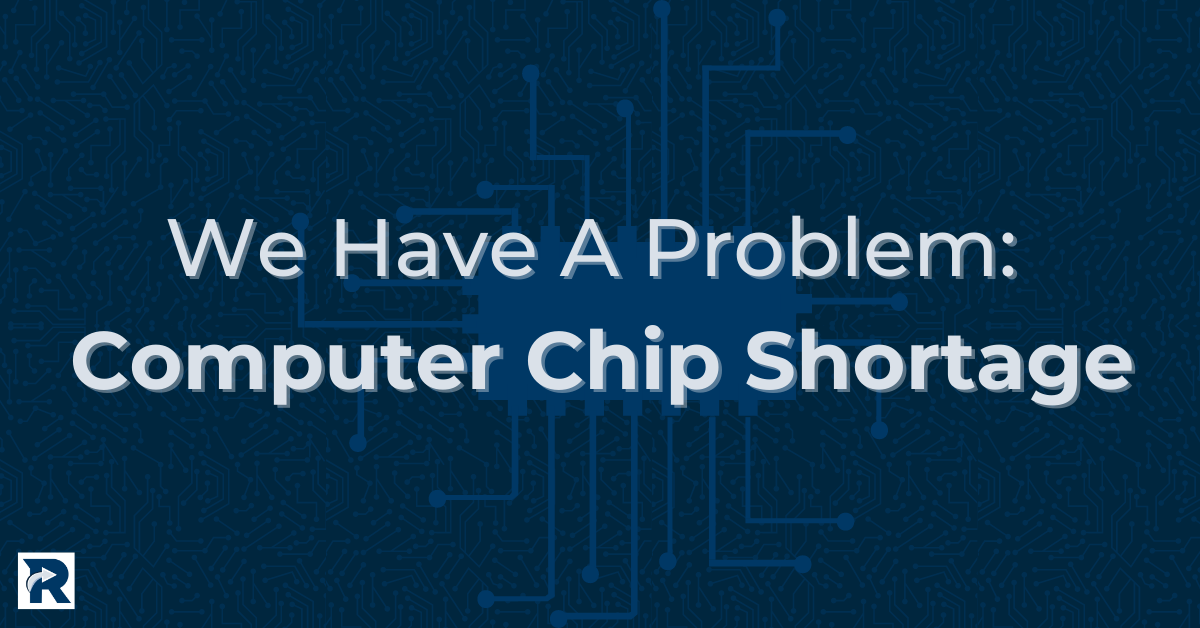 There is currently a global shortage of computer chips, affecting industries where technological production is required, which as technology develops and evolves, is most industries.
"As technology has advanced, semiconductor chips have spread from computers and cars to toothbrushes and tumble dryers — they now lurk beneath the hood of a surprising number of products." (CNBC).  
According to CNN, there are a multitude of factors that have contributed to the shortage.
"Several factors are driving the crunch, which was initially concentrated in the auto industry. The first is the coronavirus pandemic, which plunged the global economy into recession last year, upending supply chains and changing consumer shopping patterns. Carmakers cut back orders for chips while tech companies, whose products were boosted by lockdown living, snapped up as many as they could." (CNN).  
The car industry is being largely affected, as chips are placed in multiple areas throughout new cars, but there are other industries being affected now as well.
"But demand for chips is continuing to outstrip supply, and car makers are no longer the only companies feeling the pinch," said CNBC. "Samsung's co-chief executive and mobile chief, Koh Dong-jin, said at a shareholder meeting in March that there's a serious imbalance in supply and demand of chips in the IT sector. At the time, the company said it might skip the launch of the next Galaxy Note smartphone."
The shortage could even affect your use of everyday appliances.
"Production of low-margin processors, such as those used to weigh clothes in a washing machine or toast bread in a smart toaster, has also been hit. While most retailers are still able to get their hands on these products at the moment, they may face issues in the months ahead." (CNBC).  
Semiconductors being in short supply could cause a rise in prices for products requiring a computer chip.
"The pressure on supply chains has even caught the attention of US President Joe Biden, who ordered a review in February into which products used by Americans are vulnerable to disruptions. Biden said that could lead to an increase in the domestic production of certain goods." (CNN).  
Estimated to last well into 2022 until production companies can catch up to demand, in the meantime U.S Tech giant Intel is offering help.
"Intel also announced in March that it intends to spend $20 billion on two new chip plants in Arizona. 'It's going take two or three years before we start to see that,' said Gartner's Priestley. "But that's really looking to meet future demand.'" (CNBC).  
Likely to affect the security industry, with chips being an integral part of security for payment, the shortage will affect mobile phones, and identification cards, according to EuroSmart.
"It will affect the smart security industry this year and beyond. Eurosmart would therefore like to encourage all stakeholders to consider the potential impact of the silicon shortage and to engage with relevant industry actors to set the right way to deal with this challenging situation. Notwithstanding this difficult situation, the smart security industry is fully committed to do its best to provide products to the market so that people can continue to benefit from trusted services such as secure payment, mobile communication, IoT, and identification of persons." (EuroSmart).
According to Fox News, the shortage is likely to affect national security, as these products have become an integral part of national security efforts.
"Computer chips, otherwise known as semiconductors, are quickly becoming a top national security priority for the United States and foreign governments, according to an anonymous industry insider who spoke exclusively with the Fox Investigative Unit. And they argued the stakes couldn't be higher, to both the private sector and government bodies, when it comes to securing the supply chain of these fingernail-sized building blocks of nearly every aspect of the modern world." (Fox News).  
Have any questions about cyber-security? Responsive Technology Partners is the leading cyber-security expert in the Athens, Metter, Milledgeville, Vidalia, and Atlanta, Georgia areas. We also have locations in Tampa, Florida, Roanoke, Virginia, and Raleigh South Carolina. Please check out our website to learn more: https://www.responsivetechnologypartners.com/.
Sources: 
Shead, Sam. "The Global Chip Shortage Is Starting to Have Major Real-World Consequences." CNBC, 18 May 2021, www.cnbc.com/2021/05/07/chip-shortage-is-starting-to-have-major-real-world-consequences.html. 
Ziady, Hanna. CNN. "The Global Chip Shortage is Going From Bad to Worse". https://www.cnn.com/2021/04/29/business/chip-shortages-smartphones-consumer-goods/index.html 
EuroSmart. "Digital Security Industry Affected By Global Chip Shortage". June 22, 2021. https://www.eurosmart.com/digital-security-industry-affected-by-global-chip-shortage/\ 
Diaz, Alex. Fox News. "Computer chips shortages lead to national security concerns." Oct. 13, 2021.  
https://www.foxnews.com/us/semiconductors-101-computer-chips-shortages-national-security-concerns