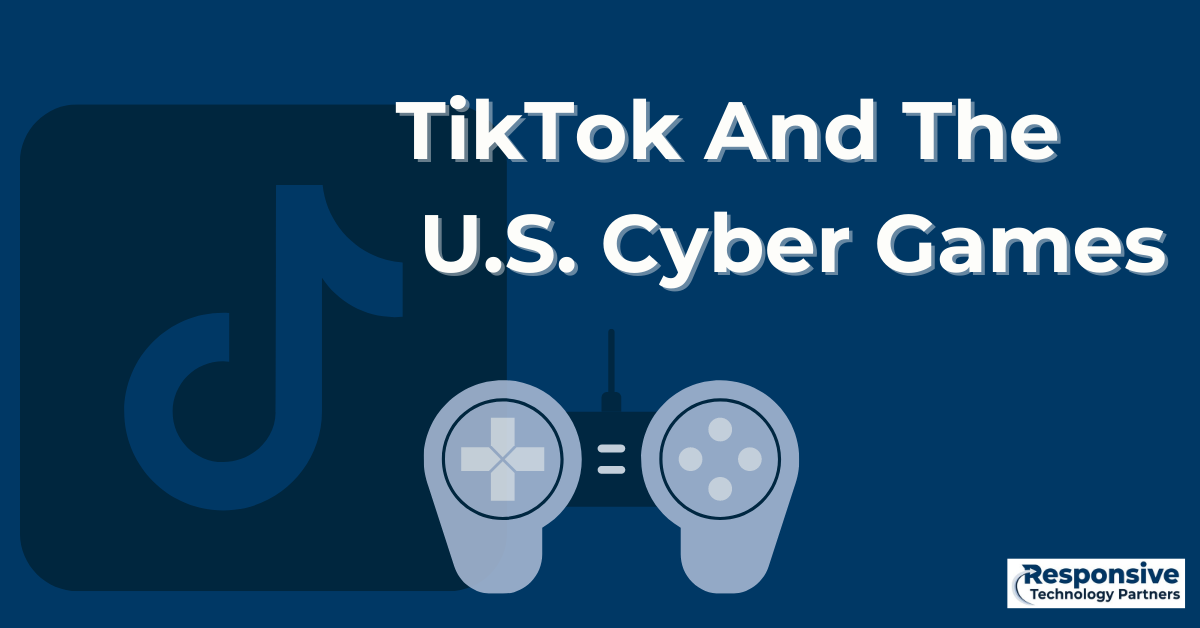 Cyber-security is not a game. Or is it?
What if cyber-security were an electronic sport? Well, now it is!
The app Tik Tok is becoming one of the first sponsors of the US Cyber Games and Team, where cyber-security is a game and players are called cyber-athletes.
"We're incredibly thankful to partner with TikTok to form our national team," said US Cyber Games Commissioner Jessica Gulick. "At the heart of an elite cyber-athlete is creativity, tenacity to solve problems and the ability to teach and learn as a team. The TikTok community offers an amazingly rich talent pool that embraces diversity, sharing, and learning." (TikTok).
Tik Tok is an advocate for cyber-security measures, having developed an initiative for cyber-hygiene.
"TikTok is marking Cybersecurity Awareness Month with its #BeCyberSmart campaign, working with the National Cyber Security Alliance and other industry experts on creating a culture of cybersecurity." (Ad Week).
Many of the initial cyber-security games are set up like capture the flag, where they race against the clock to find flaws in security. The official draft date is October 5. After training, the US Cyber team will compete at the International Cyber-security Challenge (ICC) (Takahashi).
The games serve as an incentive to learn more about cyber-security in a time of growing cyber-security demands.
"By 2029, the U.S. Bureau of Labor Statistics projects the need for information security jobs to grow by 31%, including rising demands across both the public and private sectors." (Takahashi). 
Challenges will include web application, system exploitation, cryptography, reverse engineering, hardware challenges, forensics, and escape rooms. Challenges will even include internet of things or smart city security, which is essential to fine tune before the internet of things becomes widespread (Takahashi).
"The idea of the Cyber Games, as TikTok notes, is to help find cybersecurity talent, in order to ensure that official security efforts don't fall behind, and enable hackers to get the upper hand on security systems around the world." (Social Media Today).  
The games will be held in collaboration with the National Initiative for Cyber-security Education.
This is a great step forward for the future of cyber-security, which is in dire need of qualified professionals in the field, however some believe that Tik Tok is only trying to build a better cyber-security reputation.
"TikTok is looking to build stronger ties with US officials, and alleviate concerns around its data gathering processes, with a new deal to become the founding sponsor of the inaugural US Cyber Games." (Social Media Today).  
Tik Tok is in a good position to sponsor the games given their audience, while allowing them to separate themselves from a controversial cyber background.
"Given its reach among younger audiences, TikTok is well-positioned to encourage young people to consider a career in cybersecurity, and its sponsorship of the event will help raise awareness, while also giving TikTok a chance to establish ties within the cybersecurity community. It will also, potentially, help to highlight TikTok's own separation from its Chinese parent company, and related exposure to the Chinese Government." (Social media Today).
Have any questions about cyber-security? Responsive Technology Partners is the leading cyber-security expert in the Athens, Metter, Milledgeville, Vidalia, and Atlanta, Georgia areas. We also have locations in Tampa, Florida, Roanoke, Virginia, and Raleigh South Carolina. Service offerings include I.T. support, cyber-security and compliance, telephony, cloud services, cabling, access control, and camera systems. Our company's mission is to provide world-class customer service through industry leading I.T. solutions that make every customer feel as if they are our only customer. Please visit our website to learn more: https://www.responsivetechnologypartners.com/.
Sources: 
Takahashi, Dean. "US Cyber Games and TikTok Turn Cybersecurity into an Esport." VentureBeat, 4 Aug. 2021, venturebeat.com/2021/08/02/us-cyber-games-and-tiktok-make-an-esport-out-of-cybersecurity. 
TikTok. "TikTok Kicks off Partnership to Help the First US Cyber Team Compete on the World Stage." Newsroom | TikTok, 2 Aug. 2021, newsroom.tiktok.com/en-us/tiktok-kicks-off-partnership-to-help-the-first-us-cyber-team-compete-on-the-world-stage. 
Cohen, David. "Tik Tok Kicks Off #BeCyberSmart Initiatives For CyberSecurity Awareness Month". Ad Week. Oct. 4, 2021. https://www.adweek.com/media/tiktok-kicks-off-becybersmart-initiatives-for-cybersecurity-awareness-month/ 
Hutchinson, Andrew. "Tik Tok Looks To Build Ties With Cyber Security Community By Sponsoring US Cyber Games". Social Media Today.Aug. 2, 2021 https://www.socialmediatoday.com/news/tiktok-looks-to-build-ties-with-cybersecurity-community-by-sponsoring-the-u/604324/