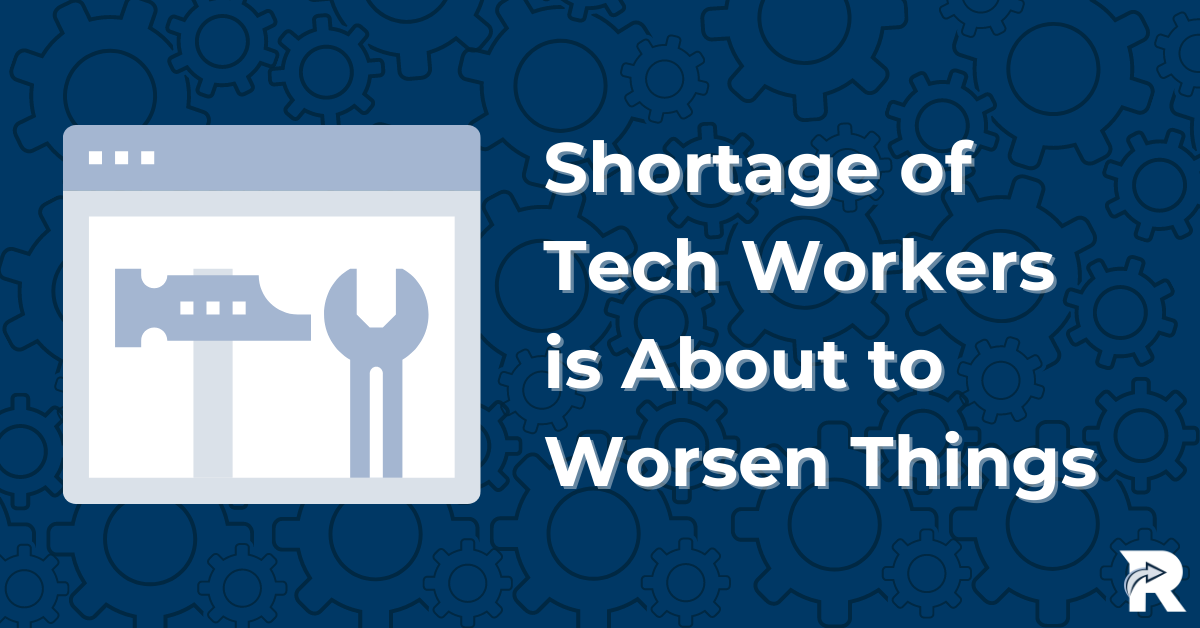 The Information Technology field is currently experiencing a shortage of workers with a lack of suitable talent outweighing cost issues and security risks when it comes to implementing new technologies. Sixty-four percent of new technologies are prevented from being executed due to the shortage of workers, according to a new study by Gartner (ZDNet).
"The issue is particularly prevalent when it comes to adopting IT automation technologies: in 75% of cases, leaders cited talent availability as the main risk factor. But a similar picture comes out across compute infrastructure, platform services, network, security, digital workplace, and storage and database." (ZDNet).
According to Gartner research Vice President Yinuo Geng, the shortage of workers is likely due to the changing work environment in 2021.
"The ongoing push toward remote work and the acceleration of hiring plans in 2021 has exacerbated IT talent scarcity, especially for sourcing skills that enable cloud and edge, automation and continuous delivery," Geng said. (Nearshore Americas).
This shortage could cause some problems for not just the IT industry, but all industries who plan to go hybrid or fully remote.
"This in turn is creating a heightened need for infrastructure security, since hybrid work environments are particularly prone to cyberattacks. Between 2020 and 2021, the number of security technologies in deployment rose from 15% to 84% of the technologies evaluated by Gartner; and even a year and a half after the start of the pandemic, the research firm found that 64% of IT leaders still report that they have either increased or are planning to increase investments in security technologies. These business transformations require more qualified staff -- and it is dawning upon IT leaders that this staff is not available." (ZDNet).
Even worse, the trend of supply and demand within the IT field is expected to continue.
"The survey indicates the continuation of a trend we have been seeing for the past few years," says Geng. "There has been a shift of skills, with a focus on cloud skills or automation skills, and those are particular skills we are seeing scarcity in."  (ZDNet).
Without sufficient staff to implement new technologies, multitudes of businesses will fall behind.
"The analyst argues that those who are unable to secure the appropriate talent will soon find themselves unable to compete against businesses that move faster and deploy new technologies that will improve their outcomes." (ZDNet).
So, what can we do to combat this trend? Geng offers some solutions to the rising problem.
"Encouraging every employee to reskill and engage in continuous learning could be the short-term solution, say analysts. Geng urges companies to focus on "creating long-term talent" plans, rather than short term solutions." (Nearshore Americas)
Have any questions about cyber-security? Responsive Technology Partners is the leading cyber-security expert in the Athens, Metter, Milledgeville, Vidalia, and Atlanta, Georgia areas. We also have locations in Tampa, Florida, Roanoke, Virginia, and Raleigh South Carolina. Service offerings include I.T. support, cyber-security and compliance, telephony, cloud services, cabling, access control, and camera systems. Our company's mission is to provide world-class customer service through industry leading I.T. solutions that make every customer feel as if they are our only customer. Please visit our website to learn more: https://www.responsivetechnologypartners.com/.
Sources: 
Ammachchi, Narayan. "Talent Shortage Bites Hard, Delaying Technology Adoption." Nearshore Americas, 2021, nearshoreamericas.com/talent-shortage-bites-hard-delaying-technology-adoption. 
Leprince-Ringuet, Daphne. "The Shortage of Tech Workers Is about to Become an Even Bigger Problem for Everyone." ZDNet, 13 Sept. 2021, www.zdnet.com/article/the-shortage-of-tech-workers-is-about-to-become-an-even-bigger-problem-for-everyone/?ftag=TRE5575fdc&bhid=%7B%24external_id%7D&mid=%7B%24MESSAGE_ID%7D&cid=%7B%24contact_id%7D&eh=%7B%24CF_emailHash%7D.