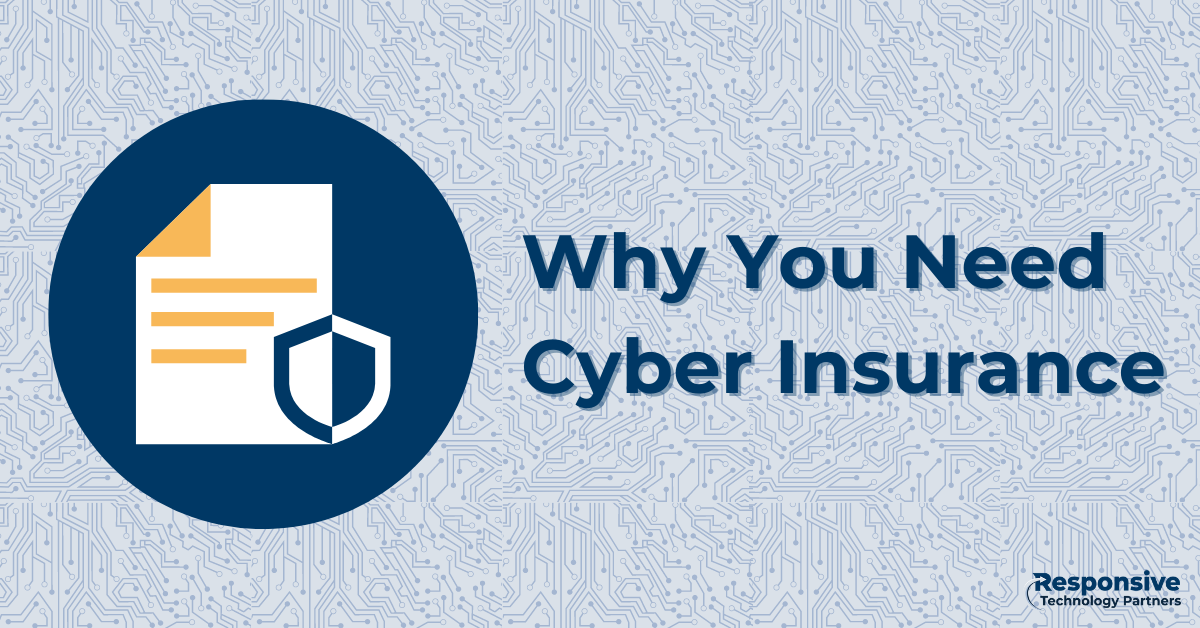 With cyber-attacks increasing against public and private entities, it is essential to protect your company from catastrophe. But how do we do that? In addition to preventative measures, companies should have a disaster response plan that involves cyber insurance coverage. 
"Cyber insurance generally covers your business' liability for a data breach involving sensitive customer information, such as Social Security numbers, credit card numbers, account numbers, driver's license numbers and health records." (Nationwide).  
Cyber-attacks can have a detrimental effect on business continuity. 
"The loss, compromise or theft of electronic data can have a negative impact on a business, including the loss of customers and revenue. Businesses may be liable for damages stemming from the theft of third-party data. Cyber liability coverage is important to protect businesses against the risk of cyber events, including those associated with terrorism." (Tech Target).    
With the industry of technology rapidly changing, it's advisable to have a developing plan. 
"As cyber-attacks such as ransomware ramp up, threatening the data and privacy of governments and private sectors, cyber insurance needs are changing and becoming more expensive. Between millions in ransom demands and an increase in threats like supply chain attacks, enterprises require different coverage than in the past. Not only has the price of coverage surged, but the cyber insurance business model is rapidly evolving as well." (Tech Target).  
Data minimization, zero trust securities, and your IT team can all help you prevent an attack, but can they help you after an attack has already taken place? Something is better than nothing when it comes to cyber insurance, however making sure the amount you're covered for suits your business model is essential.  
"Cyber insurance policies help cover the financial losses that result from cyber events and incidents. In addition, cyber-risk coverage helps with the costs associated with remediation, including payment for the legal assistance, investigators, crisis communicators, and customer credits or refunds." (Tech Target).  
Data breach insurance and cyber liability insurance are two policies that could help your business respond to cyber-attacks.  
"Data breach insurance helps your business respond to breaches and can offer enough protection for small business owners. Cyber liability insurance is typically meant for larger businesses and offers more coverage to help prepare for, respond to and recover from cyberattacks." (Hartford).  
To get a premium for coverage, businesses often must submit a report on their level of current security.  
"To qualify for coverage, the individual or entity typically must submit to a security audit by the insurance company or provide documentation with the assistance of an approved assessment tool, such as that offered by the Federal Financial Institutions Examination Council (FFIEC). The results from a security audit or the documentation from approved assessment tools will factor into the types of coverage provided by the cyber insurance provider, as well as the cost of the premiums." (Tech Target).  
Policies differ greatly, so its essential that businesses choose a policy that is right for them.  
"It's always important to know what business insurance covers. This is especially true for cyber insurance. Our data breach insurance and cyber liability insurance are two different policies. While they offer some of the same benefits, including access to our Cyber Center with easy-to-understand data breach prevention and response resources, both policies help protect your business in different ways." (Hartford).  
To make your coverage work for your business, you need to ensure that the policy covers all aspects of potential cyber-security threats that could affect your business.  
"To choose a policy, companies should closely review policy details to ensure it contains the necessary protections and provisions. In addition, companies should evaluate whether policies provide protection against known and emerging cyber incidents and threat profiles." (Tech Target).  
Have any questions about cyber-security? Responsive Technology Partners is the leading cyber-security expert in the Athens, Metter, Milledgeville, Vidalia, and Atlanta, Georgia areas. We also have locations in Tampa, Florida, Roanoke, Virginia, and Raleigh South Carolina. Please check out our website to learn more: https://www.responsivetechnologypartners.com/. 
Sources: 
Waldman, Arielle. "Cyber insurance premiums costs skyrocket as attacks surge". Tech Target. 11 Oct. 2021. https://searchsecurity.techtarget.com/news/252507932/Cyber-insurance-premiums-costs-skyrocket-as-attacks-surge 
Nationwide. "What is cyber insurance" https://www.nationwide.com/lc/resources/small-business/articles/what-is-cyber-insurance 
Tech Target. "What is cybersecurity insurance". Oct. 2021. https://searchsecurity.techtarget.com/definition/cybersecurity-insurance-cybersecurity-liability-insurance 
Hartford. "Cyber insurance: Data breach and cyber liability". https://www.thehartford.com/cyber-insurance