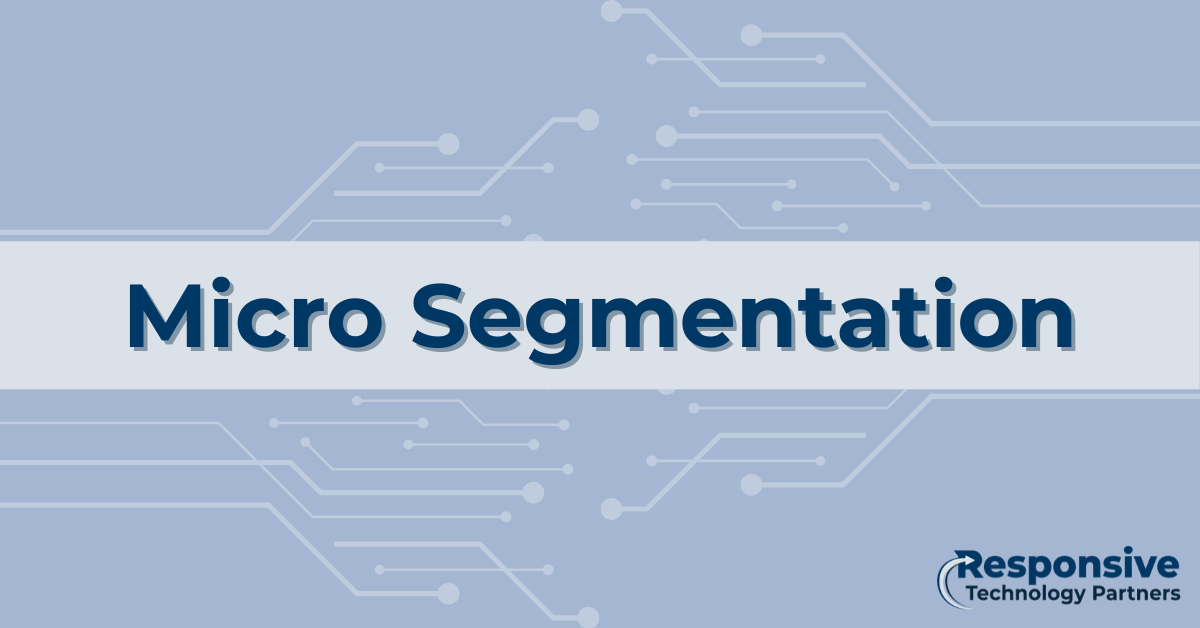 Four out of five, or 83 percent, of cyber-security leaders utilize micro-segmentation to protect networks, according to cybersecurity company Byos.  
"Micro-segmentation is the creation of zones in data centers and cloud environments. It allows workloads to be isolated from one another and secured individually." (Infosecurity Group). 
Micro-segmentation is all about providing more granular security, that is, creating more specific security requirements for specific networks.  
"To be effective, micro segmentation requires visibility into all network traffic. While there are a number of ways to monitor traffic, the hypervisor touches every packet on the network and is therefore uniquely positioned to provide the necessary visibility." (Palo Alto Networks). "By preventing threats from performing lateral movement and privilege escalation, network segmentation limits the damage breaches can cause and streamlines mitigation activities." 
Byos's report states that out of the 83 percent of cyber leaders that use micro-segmentation, a majority approve of the strategy and assert its usefulness as a security measure. 
"For those who have already made the shift to micro-segmentation, 88% of cybersecurity leaders said that they believe micro-segmentation is essential to achieving zero trust network security. Even more leaders – 92% – said that they believe micro-segmentation 'is more practical and efficient than its alternatives.'" (Infosecurity Group). "Explaining what features were important when choosing a micro-segmentation solution, 76% of cybersecurity leaders said real-time threat management. Secure remote access and a ransomware kill switch were listed as major draws by 67% and 62%, respectively."  
According to Palo Alto Networks, there are a multitude of benefits to micro-segmentation which include: 
Reduced attack surface: "Microsegmentation provides visibility into the complete network environment without slowing development or innovation. Application developers can integrate security policy definition early in the development cycle and ensure that neither application deployments nor updates create new attack vectors. This is particularly important in the fast-moving world of DevOps." 
Improved breach containment: "Microsegmentation gives security teams the ability to monitor network traffic against predefined policies as well as shorten the time to respond to and remediate breaches." 
Stronger regulatory compliance: "Using microsegmentation, regulatory officers can create policies that isolate systems subject to regulations from the rest of the infrastructure. Granular control of communications with regulated systems reduces the risk of noncompliant usage." 
Streamlined policy management: "Moving to a microsegmentation architecture provides an opportunity to simplify the management of firewall policies. An emerging best practice is to use a single consolidated policy for subnet access control as well as threat detection and mitigation, rather than performing these functions in different parts of the network. This approach reduces the attack surface and strengthens the organization's security posture." 
Micro-segmentation is likely to grow in popularity as a form of securing networks amongst security professionals. 
"When Gartner first identified micro-segmentation as a key emerging technology for information security in 2016, many security experts were unfamiliar with the concept, but here we are just five years later, and we see that it has been widely recognized as a crucial component of any security infrastructure," said Matias Katz, Byos founder and CEO. (Infosecurity Group) 
Have any questions about cyber-security? Responsive Technology Partners is the leading cyber-security expert in the Athens, Metter, Milledgeville, Vidalia, and Atlanta, Georgia areas. We also have locations in Tampa, Florida, Roanoke, Virginia, and Raleigh South Carolina. Service offerings include I.T. support, cyber-security and compliance, telephony, cloud services, cabling, access control, and camera systems. Our company's mission is to provide world-class customer service through industry leading I.T. solutions that make every customer feel as if they are our only customer. Please visit our website to learn more: https://www.responsivetechnologypartners.com/. 
Sources: 
Palo Alto Networks. "What is Micro Segmentation?" https://www.paloaltonetworks.com/cyberpedia/what-is-microsegmentation 
Infosecurity Group. "Micro-Segmentation Used by 83% of Cybersecurity Leaders". Nov. 9, 2021 
https://www.infosecurity-magazine.com/news/microsegmentation-now-used-widely/