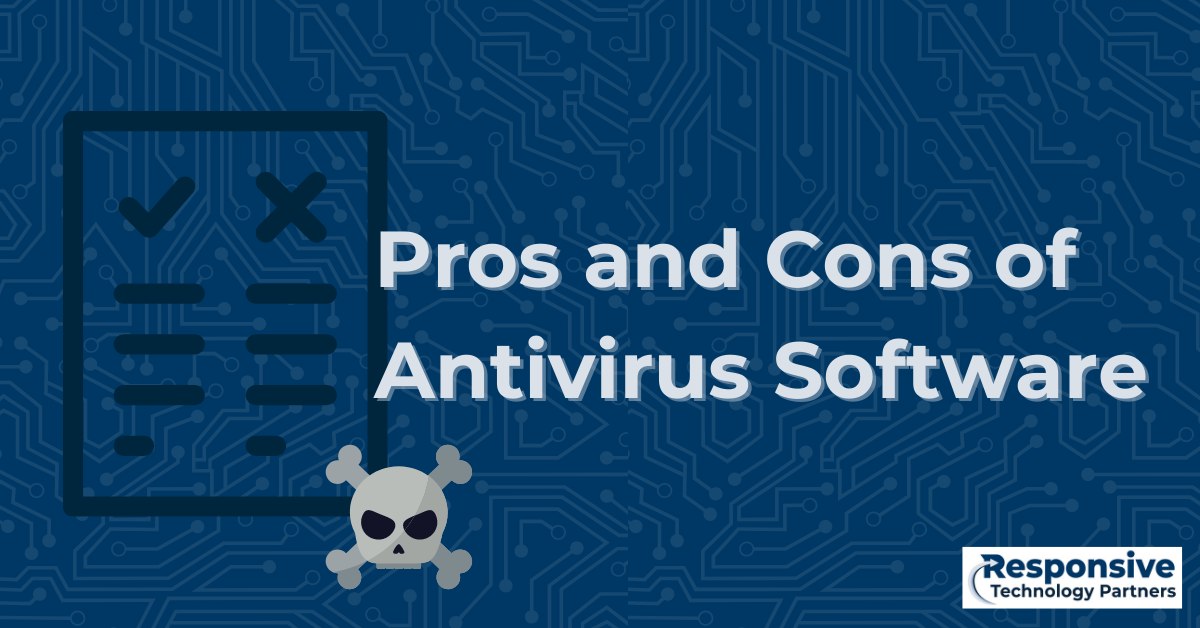 Antivirus software is software one can download onto their device to protect themselves against malicious viruses, malware and other cyber threats. In 2022, many devices already have these antivirus features embedded in their design. So, what are the pros and cons of downloading extra antivirus protections onto your electronics? The benefits depend on the device, but here are a few general pros and cons of downloading antivirus software.
Pro: Extra protection 
"Every day, new malware and other online threats emerge. In fact, the AV-Test Institute registers over 350,000 new pieces of malware and potentially unwanted applications (PUA) every day.1 Yes, you read that right: every single day. In general, malware is more of a problem than PUAs, making up 90 percent of all total threats in 2020 vs. the 12 percent from PUAs." (Security Gov)
Con: Does Not Protect Against Most Common Threats 
"Antivirus software still centers on its original use: looking for and mitigating software viruses. Because modern computer systems already do that, many programs now offer additional protections, like monitoring the dark web to see whether someone posts customers' personal information, which experts find to be of little use. But the greatest threats most users face are no longer from viruses, particularly now that so much personal computing happens over the internet." (NBC News).
Pro: Many Systems Still Require Antivirus Software 
"Some operating systems are much more susceptible to viruses than others, with Windows coming in first. 87 percent of ransomware targeted Windows computers as of January 25, 2021, according to managed service providers (MSPs)." (Security Gov).
Con: Not Many Uses For It Nowadays 
"They were once considered vital to prevent nearby hackers from spying on online activity, but security experts now say that thanks to additional built-in security protections in most major browsers, virtual private networks are useful in only a handful of specific scenarios, like streaming video that is restricted in certain countries or getting around government censors like China's 'Great Firewall.'" (NBC News).
Pro: Inexpensive 
"Even though there are many premium versions of antivirus programs for a monthly/yearly subscription fee, there are some antivirus programs those are completely free of charge. These kinds of antivirus programs offer almost the same level of protection provided by the subscription based. Even if you choose to afford a premium version, they are relatively inexpensive." (Hitech Wiz).
Con: System Slow Down  
"Using an antivirus program means that a lot of resources from the memory and the hard drive is being used. As a result, it can drastically slowdown overall speed of the computer. Moreover, the process of scanning can also cause lags in the network." (Hitech Wiz).
Have any questions about cyber-security? Responsive Technology Partners is the leading cyber-security expert in the Athens, Metter, Milledgeville, Vidalia, and Atlanta, Georgia areas. We also have locations in Tampa, Florida, Roanoke, Virginia, and Raleigh South Carolina. Service offerings include I.T. support, cyber-security and compliance, telephony, cloud services, cabling, access control, and camera systems. Our company's mission is to provide world-class customer service through industry leading I.T. solutions that make every customer feel as if they are our only customer. Please visit our website to learn more: https://www.responsivetechnologypartners.com/.
Sources: 
Security Gov. "Do You Need Antivirus." https://www.security.org/antivirus/do-you-need-antivirus/#:~:text=Antivirus%20is%20necessary%20even%20if,a%20third%2Dparty%20antivirus%20software. 
NBC News. "Still Paying For Antivirus Software?" https://www.nbcnews.com/tech/security/still-paying-antivirus-software-experts-say-probably-dont-need-rcna6335 
Hitech Wiz. "Advantages and Disadvantages of Antivirus Software." https://www.hitechwhizz.com/2020/03/6-advantages-and-disadvantages-drawbacks-benefits-of-antivirus-software.html