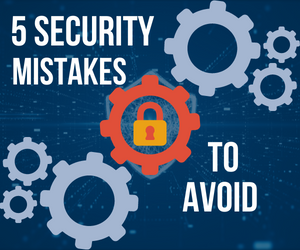 As technology advances and becomes more deeply implemented into our everyday lives, maintaining proper cyber security protocol is more important than ever. Part of this is being aware of the threats as well as how to avoid them. Here are 5 common cyber security mistakes to avoid to improve your cyber hygiene.
Comprehension
A common mistake that can be made within companies is assuming that all employees understand not only the importance of cyber security, but how they can be diligent in protecting their information. "The solution is to provide cyber security training for everyone who works at your charity – both staff and volunteers. It's important that this is not a one-off exercise. Instead, training should be provided "a little and often" so that everyone is continually reminded of the importance of keeping vigilant and carrying out basic security precautions." (Charity Digital). Make sure to hold frequent refreshers on cyber security procedures so everyone is on the same page.
Updates
Another mistake made often is a failure to update software. "Cyber criminals and security researchers routinely find flaws in software. Once a flaw has been discovered, any charity running the software is easy prey to a cyber criminal – it's the digital equivalent of leaving a safe unlocked and with the door open." (Charity Digital). Using a patch management program can help companies keep on top of the necessary updates to their systems.
False reliance
False reliance on backups can be detrimental to a company. "It is common to discover that backed up data can't be extracted from the backups because it has not been stored correctly, or that encryption keys needed to extract the data have been lost, or that some vital data has been omitted from the backup procedure due to an oversight. The only way to verify that backups are working as expected is to conduct regular testing exercises. These involve checking that data can be extracted successfully, and that all data – including data from newly adopted applications – really is being backed up." (Charity Digital). Do not rely on data backups without a sufficient plan in place to ensure that the data is not lost.
Passwords
Recycling passwords, not using two factor authentication, and relying solely on passwords for security are all common cyber security mistakes to avoid. Recycling passwords specifically puts every account attached to that password at risk. "If the bad actors figure out one of your passwords, password reuse allows them to guess the rest of your passwords." (Citi). A way to avoid your account being breached despite the threat actor obtaining your password is to implement 2FA. "2FA adds another layer of protection by requiring users to provide a one time code from a text message or an authenticator app in addition to their password before they can log on to an account. That means that cyber criminals will be unable to access the account even if they successfully get hold of the user's password." (Charity Digital).
Email etiquette
It is especially important to train your employees on email etiquette for cyber security purposes. "Receiving spam has become a part of everyday life. Sometimes it is just a harmless ad, but other times it may be something more sinister. You could get an email enticing you to click on a suspicious link to claim a prize you have won, or an offer that sounds too good to pass up. Whatever the case, avoid clicking any links as it may infect your computer or mobile device and steal your credentials." (Citi). Inform your employees on what a scam looks like and how to identify them as well as the procedure for if they ever receive spam in their inbox.
Have any questions about cyber-security? Responsive Technology Partners is the leading cyber-security expert in the Athens, Metter, Milledgeville, Vidalia, and Atlanta, Georgia areas. We also have locations in Tampa, Florida, Roanoke, Virginia, and Raleigh South Carolina. Service offerings include I.T. support, cyber-security and compliance, telephony, cloud services, cabling, access control, and camera systems. Our company's mission is to provide world-class customer service through industry leading I.T. solutions that make every customer feel as if they are our only customer. Please visit our website to learn more: https://www.responsivetechnologypartners.com/.
Sources: 
Charity Digital. https://charitydigital.org.uk/topics/four-common-security-mistakes-and-how-to-avoid-9961 
Citi. https://www.citi.com/ventures/perspectives/opinion/cyber-mistakes.html