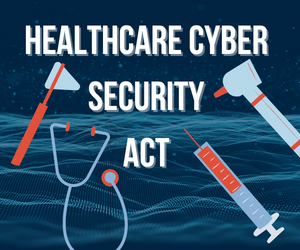 Recently, legislators introduced an act designed specifically to protect healthcare organizations from cyber-attack.
"On March 23, U.S. Senators Bill Cassidy, M.D. (R-LA) and Jacky Rosen (D-NV) introduced the Healthcare Cybersecurity Act. The act aims to direct the Cybersecurity and Infrastructure Security Agency (CISA) and the Department of Health and Human Services (HHS) to work together on how to improve cybersecurity processes in hospitals and health systems." (Healthcare Innovation).
Following the Russia-Ukraine conflict, the act is an effort to prevent potential attacks from occurring.
"This follows the White House's recent warning of a high risk of cyberattacks as Russia continues to wage war against Ukraine. The Healthcare Cybersecurity Act works to mitigate this threat by authorizing more cybersecurity education and training to health care industry leaders." (Next Gov).
Cyber-attacks are increasing in occurrence with ransomware wreaking havoc on healthcare organizations, which are at risk considering the amount of data one could hold for ransom.
"Cyber incidents are certainly not slowing down, especially in the healthcare sector. Just last week, we reported that the Hive Ransomware group, which was first observed in June of 2021 and known to target healthcare organizations, had stolen 850,000 PII records from the Partnership HealthPlan of California." (Healthcare Innovation).
One legislator who helped introduce the bill reiterated that recent Russian cyber-attacks warrant extra protection against ransomware for healthcare organizations.
"In light of the threat of Russian cyberattacks, we must take proactive steps to enhance the cybersecurity of our healthcare and public health entities," said Rosen. "Hospitals and health centers are part of our critical infrastructure and increasingly the targets of malicious cyberattacks, which can result in data breaches, the cost of care being driven up and negative patient health outcomes." (Next Gov).
The bill has a multitude of goals within the scope of cyber-security.
"The bill would:
Require CISA and HHS to collaborate, including by entering into an agreement, to improve cybersecurity in the Healthcare and Public Health sector, as defined by CISA.
Authorize cybersecurity training to Healthcare and Public Health sector asset owners and operators on cybersecurity risks and ways to mitigate them.
Require CISA to conduct a study on specific cybersecurity risks facing the Healthcare and Public Health Sector, including an analysis of how cybersecurity risks specifically impact health care assets, an evaluation of the challenges health care assets face in securing updated information systems, and an assessment of relevant cybersecurity workforce shortages." (Healthcare Innovation).
Have any questions about cyber-security? Responsive Technology Partners is the leading cyber-security expert in the Athens, Metter, Milledgeville, Vidalia, and Atlanta, Georgia areas. We also have locations in Tampa, Florida, Roanoke, Virginia, and Raleigh South Carolina. Service offerings include I.T. support, cyber-security and compliance, telephony, cloud services, cabling, access control, and camera systems. Our company's mission is to provide world-class customer service through industry leading I.T. solutions that make every customer feel as if they are our only customer. Please visit our website to learn more: https://www.responsivetechnologypartners.com/. 
Sources: 
Next Gov. https://www.nextgov.com/cybersecurity/2022/03/lawmakers-move-protect-healthcare-infrastructure-potential-russian-threat/363600/ 
Healthcare Innovation. https://www.hcinnovationgroup.com/cybersecurity/news/21262795/senators-introduce-bill-to-strengthen-cybersecurity-in-healthcare