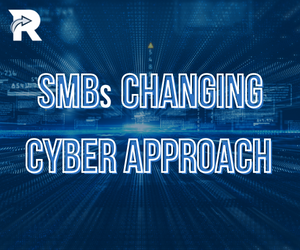 Small to medium-sized businesses have less staffing and equipment than some larger corporations, meaning sometimes their data isn't protected as well due to a lack of around-the-clock resources.
"While 81% of SMBs are monitored by a security operations center (SOC), 57% do not operate 24 hours a day, 7 days a week. Considering that 69% of SMBs feel they are facing critical and expanding cybersecurity threats and 75% say cyberattacks have increased in the past three years, the lack of 24/7 coverage continues to put SMBs at risk, according to a survey by Forrester and Pondurance." (Help Net Security).
On the flip side, automated resources that are available to SMBs can open the door to more problems.
"Cloud technologies and Internet of Things (IoT) devices have helped create efficiencies in product and application development and have even helped boost the productivity of a growing remote workforce. But these advances have also created an expanded attack surface for cybercriminals, and the complexity of modern, hybrid networks requires a sophisticated technology stack, a high level of expertise to manage and monitor your environments and around-the-clock threat hunting." (Security Boulevard).
According to Forresteer and Pondurance in their study, outside partners are essential for SMBs to have sufficent protection.
"Despite critical and expanding cybersecurity threats, SMBs struggle to fill internal security technology and staffing gaps, leaving them with serious resource constraints throughout the threat management lifecycle. The study found that the best way for SMBs to seal internal security gaps is through reliance on external partners, especially those that can truly act as extensions of their own teams." (Help Net Security).
One of these services is "Managed Detection and Response".
"Fortunately, there are partners out there offering Managed Detection and Response (MDR) services designed to provide relief in the very areas where SMBs struggle most. Knowing they must mature their security programs to mitigate risk and support growth, and knowing what it takes to do so, SMBs are turning to external partners to elevate their detection and response capabilities. In fact, 67% of respondents report that engaging external security operations partners is crucial to maturing their security operations practices." (Security Boulevard).
There are many others however, and a combination of some may be wise for SMBs.
"In the next 12 months, the top services and tools respondents plan to implement are MDR services (38%), extended detection and response (XDR) platforms (47%), and digital forensics and incident response (DFIR) services (48%). The combination of technology and service is important because tools can help existing employees increase their efficiency, but getting the most out of those tools requires a level of expertise many SMBs don't have. Support services bring both expertise where current staff may be lacking and expanded bandwidth with the service provider's security operations center (SOC) acting as an extension of the SMB's internal team." (Security Boulevard).
Have any questions about cyber-security? Responsive Technology Partners is the leading cyber-security expert in the Athens, Metter, Milledgeville, Vidalia, and Atlanta, Georgia areas. We also have locations in Tampa, Florida, Roanoke, Virginia, and Raleigh South Carolina. Service offerings include I.T. support, cyber-security and compliance, telephony, cloud services, cabling, access control, and camera systems. Our company's mission is to provide world-class customer service through industry leading I.T. solutions that make every customer feel as if they are our only customer. Please visit our website to learn more: https://www.responsivetechnologypartners.com/.
Sources:
Help Net Security. https://www.helpnetsecurity.com/2022/07/27/smb-cybersecurity-operations-practices/
Security Boulevard.https://securityboulevard.com/2022/08/the-smb-path-to-modern-mature-cybersecurity/