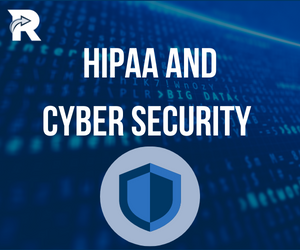 Cyber security and HIPAA compliance are pretty closely linked. The stronger your cyber security, the less likely a technical security HIPAA breach will occur. Here is some more information on HIPAA compliance in relation to maintaining tight cyber security.
1.Business Associates vs Covered Entities
Institutions required to abide by HIPAA laws include Cover Entities, and any associate working with these entities, referred to as Business Associates. Covered Entities include dentists, insurance companies, optometrists, pharmacies, and doctors' offices. Business entities include MSPs, shredding companies, lawyers, answering services, and billing companies.
2.PHI
PHI stands for Protected Health Information. There are many identifiers of PHI, and all covered entities and business associates must keep PHI private in order to abide by HIPAA laws, electronic PHI included. Cyber security is especially important in the protection of online PHI records.
3.Do All Audits and Assessments
To ensure the protection of stored PHI, make sure to complete all required audits and assessments when it comes to HIPAA compliance. These include, Security Risk Assessments, Privacy Standard Audits, Security Standards Audits, Asset and Device Audits, HITECH Subtitle D Privacy Audits, and Physical Site Audits.
4.HIPPA Security Rule Risk Assessment
SRAs, or Security Risk Assessments include collecting data, determining potential threats and vulnerabilities, ePHI and document vulnerabilities, assessing current security measures, assessing the likelihood of threat occurrence, the potential impact, and determining the level of risk. A lack of an SRA can result in HIPAA fines. SRAs increase cyber security.
5.Annual HIPAA training
Having an annual HIPAA training course for all employees will greatly improve competence and safety with important documents. Also, having a designated HIPAA compliance, security, and privacy officer will help this run more smoothly each year. Make sure to document each employee's participation.
6.Have a process for breaches
In addition to training employees, there must be a plan in place if a breach were to occur. You should have the ability to track and record the investigation following the incident. Having staff be able to report incidents anonymously will likely increase the number of incidents that are handled and resolved.
7.HIPAA covered entity employee tips
For employees of both Covered Entities and Business Associates, it is important for them to be aware of HIPAA compliance in their everyday work lives. Never share login credentials and don't access your own PHI records through your own login credentials. Go through HR or access them as a client or patient would. Don't share PHI on social media and don't leave PHI containing devices unattended.
8.Cost of HIPAA compliance
HIPAA compliance can get costly. There are many consultants and groups you can hire and utilize to realize the full potential of HIPAA and security compliance. One of these groups is the Compliancy Group. The Compliancy Group can help you meet all HIPAA requirements for an affordable price.
Have any questions about cyber-security? Responsive Technology Partners is the leading cyber-security expert in the Athens, Metter, Milledgeville, Vidalia, and Atlanta, Georgia areas. We also have locations in Tampa, Florida, Roanoke, Virginia, and Raleigh South Carolina. Service offerings include I.T. support, cyber-security and compliance, telephony, cloud services, cabling, access control, and camera systems. Our company's mission is to provide world-class customer service through industry leading I.T. solutions that make every customer feel as if they are our only customer. Please visit our website to learn more: https://www.responsivetechnologypartners.com/.
Sources: 
The Compliancy Group. https://compliancy-group.com/simple-hipaa-compliance-checklist/?utm_source=Google+Ad&utm_medium=cpc&utm_campaign=HIPAA+Open+Buy+Now&utm_content=v1&gclid=Cj0KCQjwof6WBhD4ARIsAOi65aj5hrLPK1T8T7CsI1xDqyj80PztYhwQGSVnPg2B7yo0zztyN6jdbloaApgbEALw_wcB