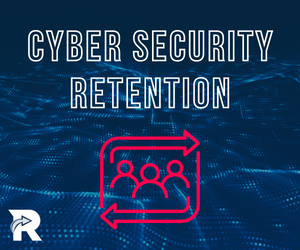 Cyber Security Retention rates are more important than ever considering the lack of cyber security professionals in the field. Larger retention rates will be able to close the gap between workers. 
"The well-reported cybersecurity skills shortage has worsened and now stands at almost 2.9 million. With too few cybersecurity professionals for the roles required, attracting talent is a key issue. But companies with mature cybersecurity teams are reporting another issue: Retaining their employees is a big challenge. Preliminary results of our salary survey, due out in 2019, tells us that employees achieve a bigger salary increase when moving jobs, and the 2018 report from (ISC)² shows that only 15% of employees have no intention of leaving their current employer." (Forbes). 
Retention refers to keeping the cyber security professionals we do have in their positions. 
"These findings point to the missing links between HR, management, and leadership teams, that organizations have yet to address internally. When there are structured processes in place to ensure the talent acquisition, training and development, well-being, and retention of cybersecurity professionals, only then will we begin to see any improvements in the talent shortage." (Cyber Knights). \ 
Take a look at the values your company holds in high regard when searching for candidates, and in turn, look at whether your current team holds these values. Make changes accordingly.  
"The best cybersecurity employees are really engaged with the industry and they look externally to find better solutions or to spot trends. If the trend they spot is that their organization is behind or not taking cybersecurity seriously, they will be tempted to move on. These candidates want to effect real change and do a good job. If they are prevented from doing this due to budget constraints, or a leadership team that hasn't committed to cybersecurity, they will move to an organization where this exists." (Forbes). 
Funding is another issue in cyber security retention. 
"Even President Biden's proposal of $9.8 billion in federal civilian cybersecurity spending, an increase from previous budgets, is receiving feedback that that number is simply not enough to develop the level of security our nation's infrastructures and organizations will require in years to come. Rethinking cybersecurity budgets to fit a specific plan of action, and not the other way around, might be a key determinate of its future success." (Cyber Knights).  
These considerations may improve cyber security retention rates. 
"The cybersecurity skills shortage isn't going away, but there are some key steps organizations can take to retain these hard-to-find employees and improve employee engagement along the way." (Forbes).  
Have any questions about cyber-security? Responsive Technology Partners is the leading cyber-security expert in the Athens, Metter, Milledgeville, Vidalia, and Atlanta, Georgia areas. We also have locations in Tampa, Florida, Roanoke, Virginia, and Raleigh South Carolina. Service offerings include I.T. support, cyber-security and compliance, telephony, cloud services, cabling, access control, and camera systems. Our company's mission is to provide world-class customer service through industry leading I.T. solutions that make every customer feel as if they are our only customer. Please visit our website to learn more: https://www.responsivetechnologypartners.com/. 
Sources: 
Forbes. https://www.forbes.com/sites/forbeshumanresourcescouncil/2018/11/21/five-smart-ways-to-increase-retention-among-cybersecurity-teams/?sh=21313a62d285 
Cyber Knights. https://www.cyberknights.us/what-fuels-cybersecurity-retention-and-reduces-employee-attrition-is-achievable/