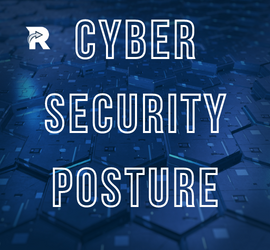 Cyber Security Posture refers to a company's general ability to defend themselves against cyberattacks. This includes all susceptibilities and vulnerabilities that one may have.  
"Your cybersecurity posture encompasses any security policies in place, employee training programs, or security solutions you have deployed, from malware to anti-virus. It is the collective security status of all software and hardware, services, networks, and information, and how secure you are as a result of those tools and processes." (Security Scorecard). 
Awareness and preparation are key in maintaining good cyber security posture. Being able to predict the kinds of attacks you may face will help you have better security posture as well.  
"In order to build a strong security posture, you need to know what you are working to protect your organization from. Security attacks and breaches are often viewed as coming from a malicious party, but sometimes they happen unintentionally." (Hyper Proof).  
Therefore, it is essential that you are constantly monitoring and leveraging the potential threats so that your security posture does not suffer. Remain upright in your defenses.  
"The first step for evaluating the maturity of your cybersecurity posture is to identify your business's needs and objectives. You should keep these goals in mind as you build out the security framework so that you can put the right systems in place for your organization's needs. For example, if a remote working policy is essential to your organization's productivity goals, it will be essential to update your cybersecurity posture to incorporate security policies geared toward mobile devices and remote network access." (Security Scorecard).  
Hyper Proof suggests distributing and delegating responsibility to departments.  
"Ownership of these various risks needs to be spread out across departments. Once risks are defined and prioritized, they should be assigned to the proper department. Then, within the assigned department, specific managers should be tasked with owning and monitoring each risk. This way, every risk can be tracked by a knowledgeable party and responsibility can be distributed throughout the organization as opposed to it all falling to one team." (Hyper Proof).   
Responsive Technology Partners suggests getting help from a third part cyber security service provider to assist you in all your cyber needs. Responsive Technology Partners provides top-class service in I.T. support, cyber-security and compliance, telephony, cloud services, cabling, access control, and camera systems. Our company's mission is to provide world-class customer service through industry leading I.T. solutions that make every customer feel as if they are our only customer. 
Sources:  
Hyper Proof. https://hyperproof.io/resource/strengthen-security-posture/ 
Security Scorecard. https://securityscorecard.com/blog/what-is-a-cybersecurity-posture