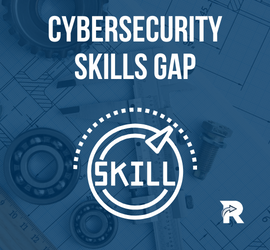 Cyber Security as an industry has a serious problem when it comes to the employee market. A skills gap is causing a major shortage of workers.
"According to (ISC)2, the global cyber workforce gap increased by 26.2% this year, compared to 2021. There are more than 3.4 million open positions that need to be filled. One reason for this is that organizations tend to stereotype qualified cybersecurity candidates as requiring a deep technical background. This is simply not true, as proper training allows almost anyone to maximize their existing skills to use them in the security industry and be placed in roles where those skills are applicable." (Security Magazine).
There are a multitude of requirements that companies face in order to fulfill proficient cyber security procedures.
"Organizations need to prep up their cybersecurity defenses, acquire niche skills to work on cutting edge technology, advance skills on cybersecurity tools, industry frameworks, architecture, and benchmarks such as NIST." (Tech Radar).
A useful resource for improving cyber security is something called a "human firewall".
"The current workforce can also be upskilled to better protect enterprises from attacks. Generic training, most often driven by compliance requirements, has proven to be ineffective in building and strengthening the organization's cyber model effectiveness against the continuously changing threat environment. The traditional approach of adding technology to address the widening gap is no longer sufficient to compete with increasingly savvy cybercriminals." (Security Magazine). "All of these factors highlight the need to invest in building a "human firewall." To orchestrate such an effort, each employee must be upskilled through training that focuses on a continuous improvement of situational awareness in their role within the organization, as well as all activity on social media both for business and personal reasons."
Make sure that the training you are putting in place matches the ethics of your company.
"The training should follow the format of preparation, practice and reflection on results. Training should start by identifying key skills of each employee, which then becomes the target of deliberate practice and training for the purpose of improving their performance, in the use of these skills, to achieve the desired security behavior." (Security Magazine).
In addition to adding a human firewall, there are other evaluations for employees that need to be put into place.
"Skill gaps are identified by conducting Training Need Analysis (TNA), which can address the role-wise and capability-wise gaps of employees(opens in new tab) to perform their roles effectively. TNA helps uncover gaps in employee training, learning and development needs. The analysis should consider organizational needs, current competencies, training methods, cost, and effectiveness." (Tech Radar).
Want to learn more about improving cyber security? Responsive Technology Partners is the leading cyber-security expert in the Athens, Metter, Milledgeville, Vidalia, and Atlanta, Georgia areas. We also have locations in Tampa, Florida, Roanoke, Virginia, and Raleigh, North Carolina. Service offerings include I.T. support, cyber-security and compliance, telephony, cloud services, cabling, access control, and camera systems. Our company's mission is to provide world-class customer service through industry leading I.T. solutions that make every customer feel as if they are our only customer. Please visit our website to learn more: https://www.responsivetechnologypartners.com/.
Sources:  
Tech Radar. https://www.techradar.com/opinion/how-businesses-can-bridge-the-cybersecurity-skills-gap 
Security Magazine. https://www.securitymagazine.com/articles/98747-growing-cybersecurity-skills-gap-necessitates-human-factor-security