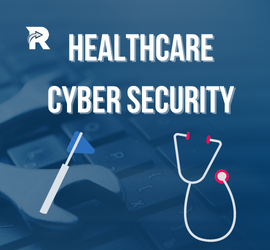 Healthcare providers and organizations possess critical data pertaining to patients and cyber criminals target this industry to obtain this information. Therefore, healthcare cyber security is a critical industry that strengthens the protection of information and prevention of attack.  
There was a recent cyber-attack in the healthcare sector.  
"An apparent ransomware attack on a major electronic health records company demonstrates the vulnerability of the health-care sector to potentially disastrous cyberattacks." (Washington Post). "The cyber incident impacted NextGen Healthcare last week. It apparently took place at the hands of a ransomware group that the Department of Health and Human Services warned about earlier this month." 
According to NextGen, no patient data was compromised. 
"The company says it doesn't look like the hackers obtained any client data, although it didn't say anything about patient or employee data. The suspected Russian ransomware group that claimed responsibility, BlackCat, put an alleged sample of NextGen information on its extortion site — typically used to compel victims to pay or risk further exposure — but later took down the NextGen listing." (Washington Post).  
Digital aspects of healthcare are expected to rise, making way for more cyberattack methods against healthcare providers. 
"According to predictions from industry stakeholders, this year could represent an inflection point for real-world utilization of artificial intelligence, and standards could raise for health data privacy and cybersecurity. In addition, though investors are more cautious, funding will continue to be available for startups this year, and the telehealth industry will be held to higher clinical standards as it's used more frequently in care delivery." (Healthcare Dive).  
NextGen eventually released another statement that did not make it clear whether data was compromised or not.  
"It's not uncommon for companies to learn later that a breach was more extensive than originally believed. It's also not uncommon for cybercriminals to lie about what kind of data they've stolen, or boast that they've stolen something they never did." (Washington Post).  
Healthcare cybersecurity should be a priority in the industry.  
"As healthcare organizations continue to adopt technology, attack surfaces will expand, increasing the need to secure the cyber environment, according to Chris Bowen, founder and CISO at data security firm ClearData. For example, the number of ransomware attacks on hospitals more than doubled between 2016 and 2021, according to a recent study. Researchers estimated more than 42 million patients' data was exposed over those five years." (Healthcare Dive).  
Cyber-attacks against healthcare organizations could be deadly.  
"The ransomware risks for health-care organizations are severe, including potentially causing patient death. North Korean and Iranian hackers have demonstrated particular interest in pursuing attacks on the sector. Companies that are vendors for other firms are a prominent way for ransomware gangs and other cybercriminals to expand their reach." (Washington Post).  
Want to learn more about improving cyber security? Responsive Technology Partners is the leading cyber-security expert in the Athens, Metter, Milledgeville, Vidalia, and Atlanta, Georgia areas. We also have locations in Tampa, Florida, Roanoke, Virginia, and Raleigh, North Carolina. Service offerings include I.T. support, cyber-security and compliance, telephony, cloud services, cabling, access control, and camera systems. Our company's mission is to provide world-class customer service through industry leading I.T. solutions that make every customer feel as if they are our only customer. Please visit our website to learn more: https://www.responsivetechnologypartners.com/. 
Sources: 
Washington Post. https://www.washingtonpost.com/politics/2023/01/23/latest-cyberattack-health-care-shows-how-vulnerable-sector-is/ 
Healthcare Dive. https://www.healthcaredive.com/news/digital-health-predictions-2023-telehealth-ai-privacy-cybersecurity/638555/