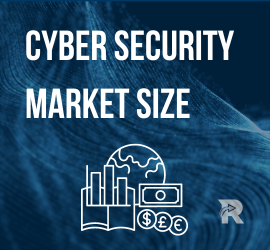 Information Technologies as an industry is becoming increasingly crucial to the safety and efficiency of everyday life.  Therefore, the cyber security market size is also increasing.
"According to (Coherent Market Insight)'s latest study, the global cyber security market was valued at US$ 1,02,859 million in 2019, witnessing a CAGR of 12.0% during the forecast period (2019-2027), the growth in the market can be attributed to the increasing demand for Cyber Security products in various end-use industries, including automotive, aerospace, and healthcare." (Digital Journal).
Another cause of this increase in investment in the market is motivation to avoid the consequences of cyber-attack. Companies don't want their consumers to think badly of them, so to prevent cyber-attack and loss of data, investments in cyber security are made.
"Cyber-attacks can cause significant financial and reputational damage to organizations, and even lead to legal and regulatory issues. Therefore, investing in cybersecurity solutions is essential for organizations of all sizes to protect their critical assets and maintain the trust of their customers and stakeholders." (Globe News Wire).
The Internet of Things has also contributed to cyber security market size. IoT devices have positive and negative effects for companies who implement them, which is a vast number of companies.
"The reduction of device costs has also contributed to the growth of the market, as it has made IoT devices more accessible to businesses of all sizes. The increased adoption of IoT devices has resulted in a higher number of connected devices, making it necessary for businesses to invest in cybersecurity solutions that can protect their networks and devices from cyber threats." (Globe News Wire).
Overall, the cyber security market size is projected to continue to grow over the next 10 years. IoT devices and cyber security precautions and preventions all contribute to the growth of the cyber security market.
Want to learn more about improving cyber security? Responsive Technology Partners is the leading cyber-security expert in the Athens, Metter, Milledgeville, Vidalia, and Atlanta, Georgia areas. We also have locations in Tampa, Florida, Roanoke, Virginia, and Raleigh, North Carolina. Service offerings include I.T. support, cyber-security and compliance, cloud-based POS systems and support, telephony, cloud services, cabling, access control, and camera systems. Our company's mission is to provide world-class customer service through industry leading I.T. solutions that make every customer feel as if they are our only customer. Please visit our website to learn more: https://www.responsivetechnologypartners.com/.
Sources: 
Digital Journal. https://www.digitaljournal.com/pr/news/cyber-security-market-worldwide-opportunities-and-revolutionary-growth-by-2030-emc-hewlett-packard-enterprise-hpe-sophos-symantec-mcafee 
Globe News Wire. https://www.globenewswire.com/en/news-release/2023/04/05/2641812/0/en/Cybersecurity-Market-to-Cross-USD-431-36-Billion-by-2030-as-Growing-Threat-Landscape-Has-Increased-the-Need-for-Robust-Cybersecurity-Solutions-Research-by-SNS-Insider.html