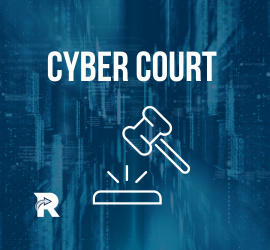 It is being argued that an international cyber court to regulate cyber security internationally is not only necessary but required considering upcoming threats. Cyber security threats are evolving at a rate that security efforts are not keeping pace with. The cost of cyber security efforts will continue to rise.
"According to statistics, global damages from cybercrime in 2022 alone were estimated at around USD 8.4 trillion. However, the cost of cybercrime incidents will expectedly exceed USD 11 trillion this year, while annual global spending on countering cyber offenses could exceed USD 20 trillion by 2026, an increase of almost 150% since 2022." (Modern Diplomacy).
With these facts in mind, it is no surprise that regulation of cyber measures and procedures following cybercrime must be managed on an international level.
"The vague and varied definitions of "cybercrimes" or related terms in US federal and state law have long troubled civil liberties advocates who see people charged with additional crimes simply because the internet was involved. And without clear, narrowly tailored, universal definitions of cybercrime, the problem may soon become a global one." (Wired).
International dealings with cybercrime include a multitude of measures.  All measures are necessary to protect infrastructure and prevent attacks on a global scale.
"International cooperation in countering cybercrime is actively developing. Thus, its various forms in criminal prosecution includes mutual legal assistance, cooperation in the field of arrest warrants, law enforcement collaboration, mutual recognition of foreign verdicts, etc." (Modern Diplomacy).
According to Wired, vague language could be detrimental to the goals of international cyber security strategy.
"The United Nations is negotiating an international cybersecurity treaty that risks enshrining the same type of broad language that's present in US federal and state cybercrime statutes and the laws of countries like China and Iran. According to a coalition of civil liberties groups, the draft treaty's list of "cybercrimes" is so expansive that they threaten journalists, security researchers, whistleblowers, and human rights writ large." (Wired).
Overall, an international cyber court could be beneficial, but the way this strategy is laid out needs to be specific in language to prevent vagueness.
"The judicial mechanisms existing within the UN system have proven that effective and transparent international justice is possible. This sets the stage for the successful resolutions to issues pertaining to this area. Particularly, it is noted that the establishment of a judicial mechanism '…would guarantee that offenses are not treated differently in different jurisdictions' and '…would provide an opportunity for prosecution in those cases where states are often reluctant to prosecute such misdeeds.'" (Modern Diplomacy).
Want to learn more about improving cyber security? Responsive Technology Partners is the leading cyber-security expert in the Athens, Metter, Milledgeville, Vidalia, and Atlanta, Georgia areas. We also have locations in Tampa, Florida, Roanoke, Virginia, and Raleigh, North Carolina. Service offerings include I.T. support, cyber-security and compliance, cloud-based POS systems and support, telephony, cloud services, cabling, access control, and camera systems. Our company's mission is to provide world-class customer service through industry leading I.T. solutions that make every customer feel as if they are our only customer. Please visit our website to learn more: https://www.responsivetechnologypartners.com/.
Sources: 
Modern Diplomacy. https://moderndiplomacy.eu/2023/03/26/time-for-an-international-cyber-court/ 
Wired. https://www.wired.com/story/the-worlds-real-cybercrime-problem/