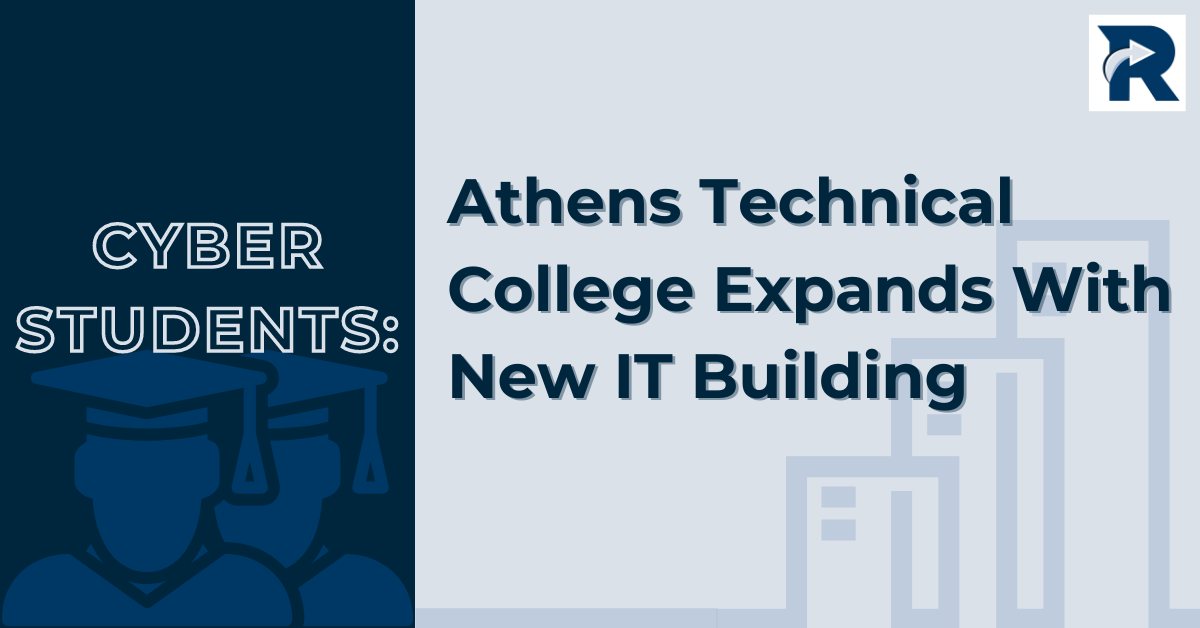 Governor Brian Kemp's budget for the fiscal year included a $13.1 million budget for Athens Technical College to build a new Industrial Technology building, according to Online Athens.
"Athens Tech's new 45,000-square-foot building, scheduled for completion by the end of next year, will include classrooms and labs for air conditioning technology, industrial systems technology and mechatronics programs. It will also house economic development programs." (Online Athens).  
The building should be ready by December 2022. "The architect for the project is Jericho Design Group of Cumming, Georgia, and the project manager is Carroll Daniel Construction of Gainesville, Georgia. Expected completion for the facility is December 2022." (Patch).
This is a necessary step forward in the local IT industry due to the rising demand for local qualified IT professionals.
"We are excited for the opportunity to expand our learning space and give students room to train with the latest industry equipment," said Athens Technical College President Andrea Daniel in a news release. "It wouldn't be possible without the support from Governor Kemp and our local legislators. This is a giant leap forward in preparing our students for a variety of in-demand jobs, and it will help us expand our commitment to continuing education." (Online Athens).  
According to Tech Gig, the demand for IT professionals grew in March of 2021, possibly due to the novel COVID-19 affecting a multitude of industries.
"In March 2021, the demand of the IT companies for technology workers increased at a drastic rate. Companies are expanding the digital measures amid the coronavirus pandemic while opting for remote working that has increased the demand in the market." (Tech Gig).
IT workers are among some of the most hired workers in the country. "On average, US companies have hired 916,000 employees for various IT job roles dropping the unemployment rate to 6%." (Tech Gig).  
Athens Tech is an integral part of the Athens community, educating Athens for over fifty years.
"Since 1958, Athens Technical College has served citizens by providing quality educational programs in an 11-county service area. The college offers over 130 program specializations in business, health, technical, and manufacturing-related areas." (Patch). 
The addition of a new technology building is increasingly relevant due to technology becoming an essential part of all businesses.
"The digital transformation has become the first step and now companies are embracing the advancements while upgrading tech capabilities, business workflow automation, cloud-based systems from in-house servers, and analytics platforms. Employers are now hiring employees that can support automation, manage remote working projects, and cloud platforms while retraining and shedding workers in system administration, data centers, and application maintenance." (Tech Gig).  
The new building at Athens Tech will allow more local IT students to prepare for a career in the IT industry.
"Maintenance technician and manufacturing associate are identified as high demand careers in Georgia. There are currently over 40 established companies seeking ATC graduates from these programs in the Athens area. The new facility will also be home to the Economic Development programs, which deliver customized business and workforce readiness classes." (Athens Tech).
Have any questions about cyber-security? Responsive Technology Partners is the leading cyber-security expert in the Athens area. Service offerings include I.T. support, cyber-security and compliance, telephony, cloud services, cabling, access control, and camera systems. Our company's mission is to provide world-class customer service through industry leading I.T. solutions that make every customer feel as if they are our only customer. Please visit our website to learn more: https://www.responsivetechnologypartners.com/.
Sources: 
Allen, Stephanie Online Athens. "Athens Tech Set to Expand with New $13.1 Million Industrial Technology Facility." Athens Banner-Herald, 27 May 2021, eu.onlineathens.com/story/news/education/2021/05/27/athens-technical-college-add-new-industrial-systems-technology-building/7458110002. 
Kaushik, Neha. "Demand for IT Professionals Surged in March 2021." TechGig, 5 Apr. 2021, content.techgig.com/demand-for-it-professionals-surged-in-march-2021/articleshow/81908190.cms. 
Athens Technical College. "New Industrial Systems Building Set For Construction At Athens Technical College". July 1, 2021.  https://www.athenstech.edu/executive/PR/spotLight/spotlight.cfm?i=682 
Athens Technical College, Patch. "New Industrial Systems Building Set For Construction At Athens Technical College" July 1, 2021. https://patch.com/georgia/athens/new-industrial-systems-building-set-construction-athens-technical-college