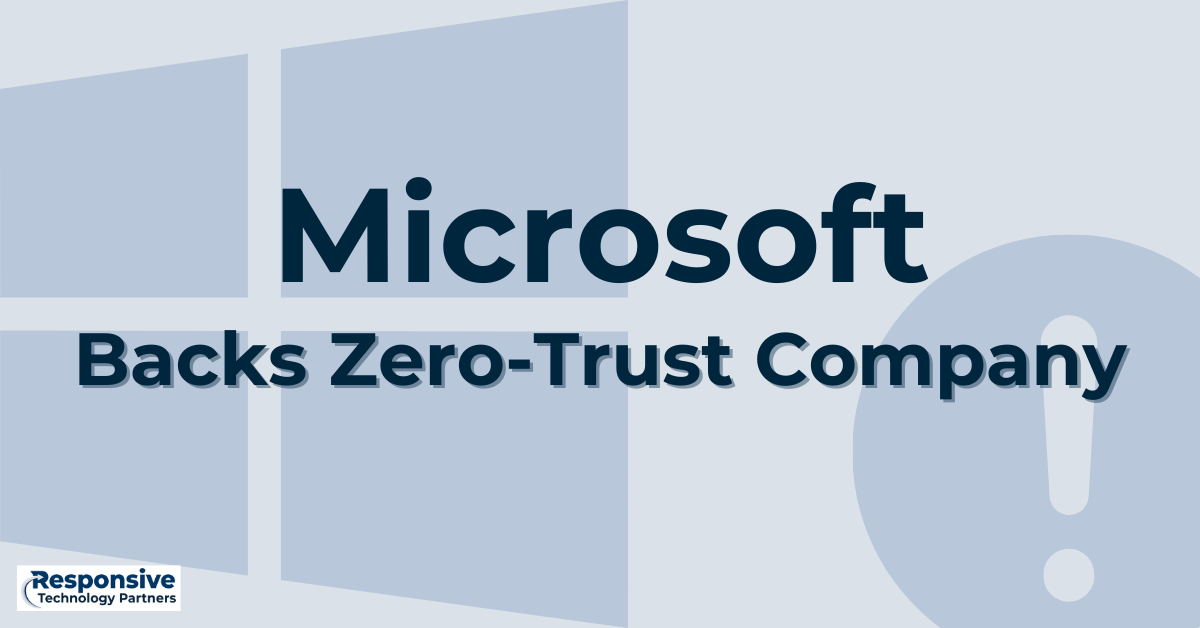 Microsoft has invested heavily in Zero Trust Security to combat ransomware threats and is now investing in Rubrik, a Zero Trust data management company.
"Rubrik makes sense as a vendor for Microsoft to focus on in this way, since Rubrik is clearly 'aligned to the Microsoft strategy,' Opal said. The deal shows that the basis for an expanded collaboration with Microsoft is an alignment 'to zero trust and the other related security, compliance, identity and management strategies that Microsoft is bringing to customers,' he said. "(CRN). 
With increasing ransomware attacks against domestic companies, the efficacy of Zero Trust technologies is more important than ever.
"Rubrik says, ransomware attacks have jumped by 700 percent in 2021 after growing 150 percent annually." (Virtualization). 
Microsoft believes zero trust is the most effective resource specifically for hybrid networks.
"Hybrid networks, which combine use of cloud services with on-premises software, require a "zero trust" security approach, Microsoft said." (Channel Partner). "The work-from-home phenomenon driven by the 2020 pandemic accelerated the use of cloud services by organizations, Microsoft argued, necessitating a change in how organizations handle security." 
The deal involves implementation of zero trust securities for Microsoft.
"The strategic agreement with Microsoft will "drive go-to-market activities and co-engineering projects to deliver integrated Zero Trust data protection solutions built on Microsoft Azure," Rubrik said in its news release Tuesday." (CRN). 
Microsoft is a firm believer that Zero Trust Securities is the most effective form of combating ransomware in modern times.
"The evidence is clear -- the old security paradigm of building an impenetrable fortress around your resources and data is simply not viable against today's challenges," Microsoft says. "Remote and hybrid work realities mean people move fluidly between work and personal lives, across multiple devices, and with increased collaboration both inside and outside of organizational boundaries. Entry points for attacks -- identities, devices, apps, networks, infrastructure, and data -- live outside the protections of traditional perimeters. The modern digital estate is distributed, diverse, and complex." (Virtualization).
Microsoft encourages protection of data, but not all users are taking advantage of the services Microsoft offers.
"One simple protection that organizations can implement is to turn on multifactor authentication (MFA), a secondary identity verification approach besides using a password. However, even though MFA is included for free with Azure or Microsoft 365 commercial subscriptions, just 18 percent of Microsoft's customers have turned it on." (Channel Partner).  
Some of the aspects of Zero Trust Security that makes Microsoft so confident are strong authentication, micro-segmentation, and data classification and protection. Adaptive access and Intelligence and AI are also factors in the strength of Zero Trust Security.
"The just-announced strategic agreement between the two companies sees Microsoft investing in Rubrik in a deal said by Bloomberg to total in the low tens of millions. The pact is meant to provide Zero Trust data protection in hybrid cloud environments that span datacenters, edge and cloud, specifically protecting flagship softwares like Microsoft 365." (Virtualization). 
Have any questions about cyber-security? Responsive Technology Partners is the leading cyber-security expert in the Athens, Metter, Milledgeville, Vidalia, and Atlanta, Georgia areas. We also have locations in Tampa, Florida, Roanoke, Virginia, and Raleigh South Carolina. Service offerings include I.T. support, cyber-security and compliance, telephony, cloud services, cabling, access control, and camera systems. Our company's mission is to provide world-class customer service through industry leading I.T. solutions that make every customer feel as if they are our only customer. Please visit our website to learn more: https://www.responsivetechnologypartners.com/.
Sources: 
"Microsoft Backs Zero Trust Security Model to Combat Ransomware, Invests in Rubrik -." Virtualization Review, 18 Aug. 2021, virtualizationreview.com/articles/2021/08/18/microsoft-zero-trust.aspx. 
Alspach, Kyle. "Microsoft, Rubrik Strike Deal To Expand Ransomware Protection." CRN, 17 Aug. 2021, www.crn.com/news/cloud/microsoft-rubrik-strike-deal-to-expand-ransomware-protection. 
Mackie, Kurt. "With Hybrid Networks on Rise, Microsoft Backs Zero Trust". Channel Partner. May 13, 2021. https://rcpmag.com/articles/2021/05/13/microsoft-touts-zero-trust-security.aspx