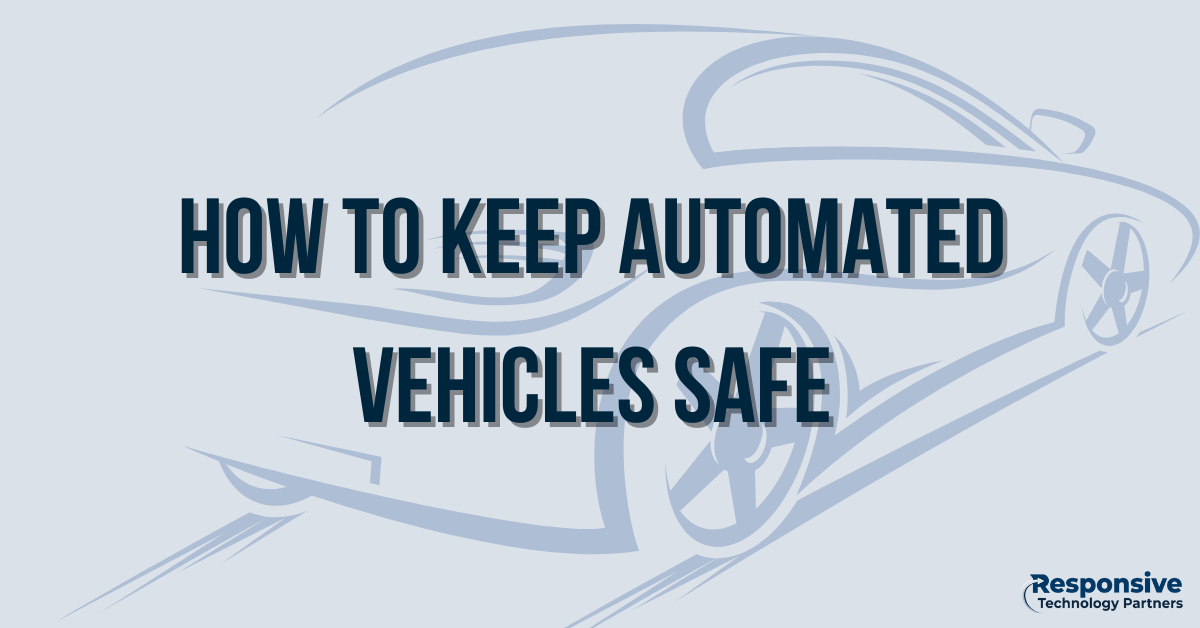 Considering increasing technological developments with smart city technologies and internet of things, its essential to keep users safe. In the case of automated vehicles, it is detrimental. According to UGA Today, University of Georgia researchers are searching for solutions to problems with automated vehicles. 
"For this study, the researchers investigated vulnerabilities to cyberattacks directed at targets ranging from energy efficiency to safety, and provided an architecture for next-generation power electronics systems." (UGA Today).  
"University of Georgia researchers are identifying weaknesses that could threaten the safety and efficiency of such vehicles. In a new paper published in the IEEE Journal of Emerging and Selected Topics in Power Electronics, a UGA-led team provides the first comprehensive study on cyber-physical security of powertrain systems in connected and automated electric vehicles, or CAEVs." (UGA Today).  
The safety of self-driving cars is especially important to improve in the wake of an investigation against Tesla. 
"The investigation was prompted by at least 11 accidents in which Teslas using Autopilot, an assisted-driving system that can steer, accelerate and brake on its own, drove into parked fire trucks, police cars and other emergency vehicles, the safety agency, the National Highway Traffic Safety Administration, disclosed." (New York Times).  
Researchers looked at a variety of aspects of self-driving cars, including most importantly, safety. Due to the technology required for automation, cyber-security risks increase. 
"While technology such as adaptive cruise control and other auto-assist functions can significantly enhance driving safety, comfort and energy efficiency, embedding such control units into networked infrastructure opens a door to cyber-security concerns. In-vehicle infotainment systems—used to deliver entertainment and useful information to the driver and the passengers through audio/video interfaces, touch-screen displays, button panels and voice commands—are a prime target for attackers, allowing them to hijack both safety-critical and non-safety functions." (UGA Today).  
Obviously, the effects of this increased risk could be disastrous to drivers of automated vehicles. The risks don't just stop at safety concerns, they also include efficiency.  
"Cyber-attacks can also significantly reduce efficiency of electric vehicles, causing faster deterioration in power capability and battery life, thus shortening the time and distance between charging. Highly skilled attackers can potentially cause severe damage, such as decreasing battery capacity and energy by up to 50 percent, using sophisticated methods hardly detectable by the human driver." (UGA Today).  
So, how can we improve cyber-security in vehicles to reduce the likelihood of severe damage due to cyber-attack? Lead author of the report published in the IEEE Journal of Emerging and Selected Topics in Power Electronics and assistant professor of electrical engineering and director of the Intelligent Power Electronics and Electric Machines Laboratory Jin Ye has the answer. 
"Her emerging studies can enable carmakers and engineers to develop a first-stage cyber-security system. She suggests some basic mitigation techniques to defend modern vehicles against cyber-attacks: 
Secure on-board diagnostics port 
Better firewall 
Reliable hardware 
Secure software updates 
Penetration testing 
Code reviews 
Most importantly, Ye suggests developing a cyber-security monitoring system to detect, locate, diagnose and mitigate cyber-attacks." (UGA Today).  
For more information on Ye's research involving the cyber-security of automated vehicles visit https://ieeexplore.ieee.org/document/9296745.  
Have any questions about cyber-security? Responsive Technology Partners is the leading cyber-security expert in the Athens, Metter, Milledgeville, Vidalia, and Atlanta, Georgia areas. We also have locations in Tampa, Florida, Roanoke, Virginia, and Raleigh South Carolina. Service offerings include I.T. support, cyber-security and compliance, telephony, cloud services, cabling, access control, and camera systems. Our company's mission is to provide world-class customer service through industry leading I.T. solutions that make every customer feel as if they are our only customer. Please visit our website to learn more: https://www.responsivetechnologypartners.com/. 
Sources: 
Michaux, Scott. "How to Keep Automated Electric Vehicles Safe." UGA Today, 27 Apr. 2021, news.uga.edu/how-to-keep-automated-electric-vehicles-safe. 
Boudette, Neal, and Niraj Chokshi. "Tesla Autopilot Faces U.S. Inquiry After Series of Crashes." The New York Times, 1 Sept. 2021, www.nytimes.com/2021/08/16/business/tesla-autopilot-nhtsa.html.