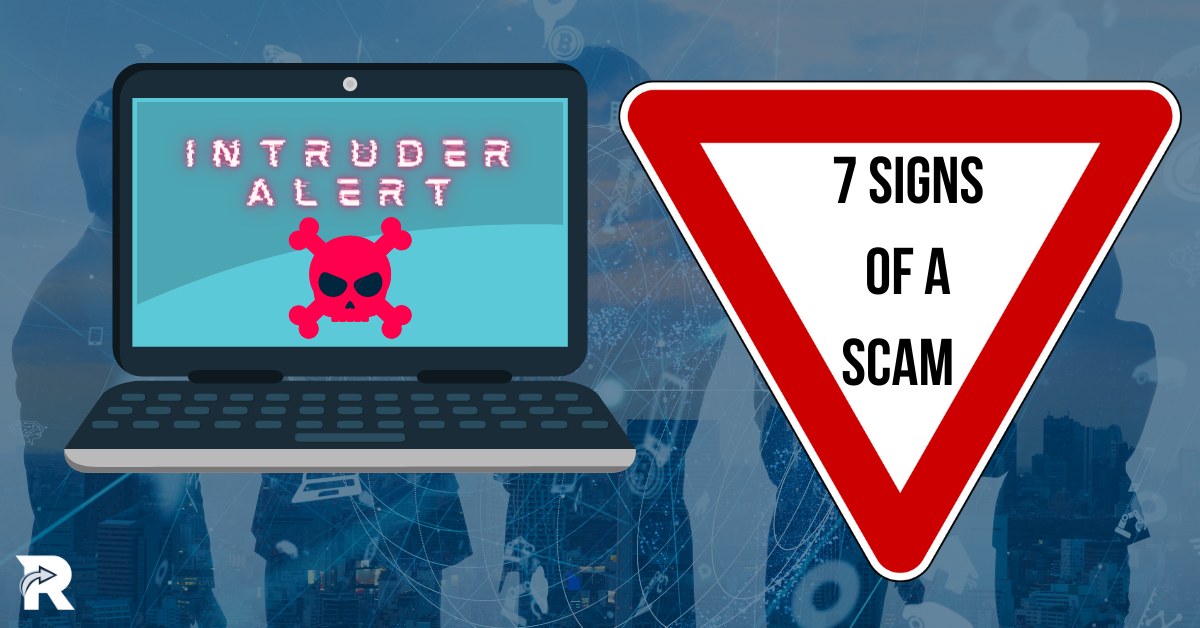 Scams can be difficult to identify, especially if you are not well versed in the signs of a scam or cyber-attack. Becoming familiar with the red flags can allow you to be prepared for encounters with cyber-criminals online and prevent a scam from occurring. Here are seven signs of a scam that everyone should be aware of.
1. Phishing frauds:
Phishing is a form of fraud often through emails. Some signs of a phishing email could include an unfamiliar address, grammatical errors, and suspicious links with an invitation to click. The scammers infiltrate systems through these links. "In case you receive an email about a failed delivery and it's asking you to update your details. Before you click on the link, carefully check the sender name. Grammatical errors and spelling mistakes can also be a sign. Verify with the original seller from where you made the purchase." (Economic Times).
2. Impersonation:
Oftentimes, when a threat actor is attempting to scam you, they impersonate someone else, like a trusted organization in order to gain your trust. "As the Federal Trade Commission notes, the common signs of a scam usually include someone who impersonates a familiar organization and tells you there's a problem (or, sometimes, a prize)." (New York Times). Sometimes the name of the organization is entirely fake. Always verify that the organization that is contacting you is legitimate and that it is really them.
3. Urgency:
Pressure is the name of the game for scammers. If someone is ever pressuring you for information over SMS, email, or even a phone call, be cautious about giving it up. "The scammer pressures you to act immediately and demands payment in a specific way." (New York Times). There are a multitude of strategies that threat actors utilize to scam people. "Scammers always create a sense of urgency citing a problem or a prize to be received by you. They might say you are in trouble or you have won a lottery for which you need to act quickly. Cold calls in the name of bank accounts being deactivated is way too common." (Economic Times).
4. Verification processes:
In addition to emphasizing urgency, scammers will also attempt to put you through a "verification process." The process is oftentimes false. "Scammers opt for ways like bank SMS or email in the name of verification. They may also suggest their own verification procedures, like going to websites they have created or calling numbers they provide to you. Be aware of clicking such links or emails or sharing your OTP with the fraudsters." (Economic Times).
5. Too good to be true:
Another way to identify a scam message is if the offer they are extending seems too good to be true. A scammer will try to entice you with unbelievable offers in order to get you to click the link. "Anything that appears too good to be true, should make you stop and think. Prices are made to look enticing but remember that it may be a potential scam. You may be duped with other upfront and hidden costs. Better to leave such a deal than to lament later." (Economic Times).
6. Wariness:
Always be wary and cautious when communicating online in any fashion. Threat actors are becoming more sophisticated in their tactics, and are striking in more places, more often than ever. "Do not share sensitive information over email or SMS or even phone calls that may sound real. Scammers can sometimes spoof real phone numbers or email addresses, to make it appear that they come from your actual bank or another legitimate contact." (Economic Times). Be on alert for the red flags that you most likely will encounter.
7. Report it:
Last but not least, if you are ever scammed or receive a scam message, you should be reporting it to the right authorities. "If you get unsolicited email pretending to be from the I.R.S., you can report it by forwarding the message to phishing@irs.gov. You can make a general fraud report on the Federal Trade Commission's site. Gmail and Outlook.com include menus to report phishing attempts, while Yahoo has a form to fill out." (New York Times).
Have any questions about cyber-security? Responsive Technology Partners is the leading cyber-security expert in the Athens, Metter, Milledgeville, Vidalia, and Atlanta, Georgia areas. We also have locations in Tampa, Florida, Roanoke, Virginia, and Raleigh South Carolina. Service offerings include I.T. support, cyber-security and compliance, telephony, cloud services, cabling, access control, and camera systems. Our company's mission is to provide world-class customer service through industry leading I.T. solutions that make every customer feel as if they are our only customer. Please visit our website to learn more: https://www.responsivetechnologypartners.com/.
Sources: 
New York Times. https://www.nytimes.com/2022/03/31/business/tax-charity-online-scams.html 
Economic Times. https://economictimes.indiatimes.com/wealth/personal-finance-news/how-to-identify-a-scam-before-it-happens/articleshow/90519020.cms