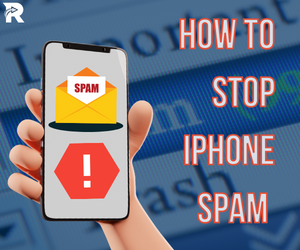 If unwanted messages are spamming your iPhone there is a process, you can go through to turn off message and call notifications for unsaved senders. There are also third-party apps you can download to block spam calls. 
Go to your settings and click on messages. Then, scroll until you find "Filter unknown messages". Turn it on! 
"Now, if you go into your messages app, you'll see tabs at the top of the screen. On the left will be "Contacts & SMS" which will contain messages from known contacts in your address book. On the right will be the new "Unknown Senders" tab." (ZD Net.) 
This will block all unsaved senders from sending notifications. For calls, go to settings and click on Phone. You're looking for "silence unknown callers".  
"Incoming calls will come through from people that are saved in your contacts list, recent calls list, and from Siri Suggestions to let you know who's calling based on phone numbers included in your emails or text messages. 
If an emergency call is placed, Silence Unknown Callers will be temporarily disabled for the next 24 hours to allow for your iPhone to be reached." (Apple).  
If many of your contacts are saved, then this could be a viable option to stop spam. You can also download apps to help block spam. In order to do this, you also need to configure your settings. 
"Go to Settings > Phone. Tap Call Blocking & Identification. Under Allow These Apps To Block Calls And Provide Caller ID, turn the app on or off. You can also reorder the apps based on priority. Just tap Edit and then drag the apps in the order you want them." (Apple).  
Have any questions about cyber-security? Responsive Technology Partners is the leading cyber-security expert in the Athens, Metter, Milledgeville, Vidalia, and Atlanta, Georgia areas. We also have locations in Tampa, Florida, Roanoke, Virginia, and Raleigh South Carolina. Service offerings include I.T. support, cyber-security and compliance, telephony, cloud services, cabling, access control, and camera systems. Our company's mission is to provide world-class customer service through industry leading I.T. solutions that make every customer feel as if they are our only customer. Please visit our website to learn more: https://www.responsivetechnologypartners.com/. 
Sources: 
Apple. https://support.apple.com/en-us/HT207099  
ZD Net. https://www.zdnet.com/article/how-to-stop-spam-messages-on-your-iphone-fast/?ftag=TRE-03-10aaa6b&bhid=%7B%24external_id%7D&mid=%7B%24MESSAGE_ID%7D&cid=%7B%24contact_id%7D&eh=%7B%24CF_emailHash%7D