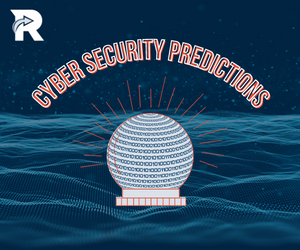 Trends in cyber security are predicted by several sources, including Gartner, a management consulting company, and Five Eyes, an alliance between five countries. We will be going over the 2022 predictions from these institutions and discussing the implications of each.
The United States is a member of the Five Eyes alliance and each country made predictions regarding their respective governments. The United States pointed out the digitization of crime and its growth.
"The US cyber strategy points out that the internet has become an essential service in the United States. The delivery of critical services, such as electricity, finance, transportation, water and healthcare, relies on the internet. In parallel to this, nation-states, terrorists, individual criminals, and criminal organizations moved their operations online. The strategy finds that the explosive combination of critical services and the adversaries both operating online represents a growing amount of risk to the United States."  (Security Boulevard).
Gartner provided more statistical predictions with precise percentages suggested for upcoming years.
"Through 2025, 30% of nation states will pass legislation that regulates ransomware payments, fines and negotiations, up from less than 1% in 2021. Modern ransomware gangs now steal data as well as encrypt it. The decision to pay the ransom or not is a business-level decision, not a security one. Gartner recommends engaging a professional incident response team as well as law enforcement and any regulatory body before negotiating." (Gartner).
Gartner also predicts that zero trust systems will gain popularity, but the benefits of the system will be overlooked.
"60% of organizations will embrace Zero Trust as a starting point for security by 2025. More than half will fail to realize the benefits. The term zero trust is now prevalent in security vendor marketing and in security guidance from governments. As a mindset — replacing implicit trust with identity- and context-based risk appropriate trust — it is extremely powerful. However, as zero trust is both a security principle and an organizational vision, it requires a cultural shift and clear communication that ties it to business outcomes to achieve the benefits." (Gartner).
Cyber-attacks could become lethal in coming years with threat actors infiltrating operational systems.
"By 2025, threat actors will have weaponized operational technology environments successfully to cause human casualties. Attacks on OT – hardware and software that monitors or controls equipment, assets and processes – have become more common and more disruptive. In operational environments, security and risk management leaders should be more concerned about real world hazards to humans and the environment, rather than information theft, according to Gartner." (Gartner).
Overall, cyber security is changing and evolving, forever and always. It is important to stay informed on cyber security trends and developments to be better prepared to protect yourself and your companies from cyber-attack.
Have any questions about cyber-security? Responsive Technology Partners is the leading cyber-security expert in the Athens, Metter, Milledgeville, Vidalia, and Atlanta, Georgia areas. We also have locations in Tampa, Florida; Roanoke, Virginia; and Raleigh North Carolina. Service offerings include I.T. support, cyber-security and compliance, telephony, cloud services, cabling, access control, and camera systems. Our company's mission is to provide world-class customer service through industry leading I.T. solutions that make every customer feel as if they are our only customer. Please visit our website to learn more: https://www.responsivetechnologypartners.com/.
Also, attend a Cyber Summit! Responsive Technology Partners hosts widespread Cyber Summits across all residing states, including Augusta, Georgia on Friday, July the 29th. The summit is a Cybersecurity Seminar featuring experts in Homeland Security, FBI, Cyber Insurance, Email Phishing Attacks and more, addressing business's cyber protection concerns. All attendees will receive a comprehensive Network Assessment that will identify weaknesses in your network, cloud environment and policies & procedures valued at $2,500. Attendance is free and there is no cost to register. The Augusta Summit will be held at the Richmond on Greene event center from 11:30am-5:00pm. 
Sources: 
Gartner. https://www.gartner.com/en/newsroom/press-releases/2022-06-21-gartner-unveils-the-top-eight-cybersecurity-predictio 
Security Boulevard. https://securityboulevard.com/2022/07/five-eyes-cyber-security-predictions/