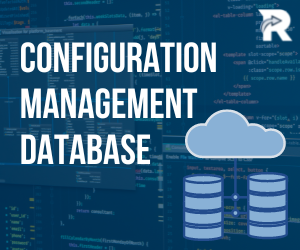 It is part of IT asset management's (ITAM) job to have insight into their IT estate. The Configuration Management Database (CMBD) is to store information on the IT estate.
"In simplest terms, a configuration management database is a repository that stores lists of information and dependencies about a wide array of IT assets -- called configuration items (CI). CIs include hardware, software, networks, physical location details, documents and other media. Ideally, a CMDB possesses a complete set of details about every CI in the enterprise IT environment. The CMDB can accompany tools that query, sort, filter, chart (visualize) and report on CMDB contents. These interactions provide visibility into the IT environment. IT admins ensure that everything operates as-installed or as-intended." (Tech Target).
According to Forbes, a CMDB isn't as reliable as one might think to gain a picture of the estate.
"While many IT asset management (ITAM) practitioners rely on a configuration management database (CMDB), those CMDBs often don't provide meaningful value or insights. The result? Organizations struggle to gain the clarity about their IT estate that's required to make effective, strategic business decisions. Sprawl—of software and hardware, within categories (e.g., many applications for the same functionality) and of products (multiple applications of the same category or type)—gets in the way of efficiency. Complications of lifecycle management (end of life and support) and vulnerability tracking can expose the organization to security risks." (Forbes).
DevOps is "a set of practices, tools, and a cultural philosophy that automate and integrate the processes between software development and IT teams." (The Atlassian).
"Agile development paradigms such as DevOps have sparked a revolution in app and service creation and delivery. Enabling developer and operations team collaboration facilitates more adaptable, effective and higher-quality software. CMDBs have played a role in this revolution, inasmuch as the data and insights they contain enable faster deployments, quicker troubleshooting and incident response, and stronger compliance and change management. As with business leaders and IT admins, DevOps is simply another "user" of CMDB data and insights." (Tech Target).
DevOps could help a business assess their use of CMBD in order to gain visibility.
"As more developers manage operations-related tasks, it's vital to understand the resources and services present in the business, as well as how those assets are configured. This kind of information helps IT pros provision new resources and deploy new software builds accurately and securely. CMDBs have long been a bulwark of such efforts, but CMDBs might no longer be the best single source of truth in busy, dynamic IT environments. DevOps organizations look past CMDBs to embrace leaner and more versatile platforms, such as ServiceNow, Now Platform, CloudBees CI, Red Hat Ansible Automation Platform, SaltStack, TeamCity and others." (Tech Target).
According to Forbes, the most important aspects of gaining IT visibility are consolidation, normalization, and mapping lineage.
"IT data should be consolidated, normalized and mapped with complete lineage. Doing so provides the clarity required in order to make confident, sound action in an IT estate." (Forbes). "With enhanced IT visibility into your data comes significant payoffs: effective management of time and resources, the ability to accelerate strategic decisions, increased efficacy of tooling, improved BI, normalized data that supports a range of initiatives and more. Focusing on data clarity allows you to see your entire estate, optimize costs, mitigate risks and move your business strategy forward with appropriate context."
Have any questions about cyber-security? Responsive Technology Partners is the leading cyber-security expert in the Athens, Metter, Milledgeville, Vidalia, and Atlanta, Georgia areas. We also have locations in Tampa, Florida, Roanoke, Virginia, and Raleigh South Carolina. Service offerings include I.T. support, cyber-security and compliance, telephony, cloud services, cabling, access control, and camera systems. Our company's mission is to provide world-class customer service through industry leading I.T. solutions that make every customer feel as if they are our only customer. Please visit our website to learn more: https://www.responsivetechnologypartners.com/.
Also, attend a Cyber Summit! Responsive Technology Partners hosts widespread Cyber Summits across all residing states, including Augusta, Georgia on Friday, July the 29th. The summit is a Cybersecurity Seminar featuring experts in Homeland Security, FBI, Cyber Insurance, Email Phishing Attacks and more, addressing business's cyber protection concerns. All attendees will receive a comprehensive Network Assessment that will identify weaknesses in your network, cloud environment and policies & procedures valued at $2,500. Attendance is free and there is no cost to register. The Augusta Summit will be held at the Richmond on Greene event center from 11:30am-5:00pm. 
Sources: 
Forbes. https://www.forbes.com/sites/forbestechcouncil/2022/06/27/your-business-decisions-are-only-as-strong-as-your-data/?sh=47f78fb12256 
Tech Target. https://www.techtarget.com/searchitoperations/opinion/Will-DevOps-spell-the-death-of-the-CMDB 
The Atlassian. https://www.atlassian.com/devops#:~:text=DevOps%20is%20a%20set%20of,and%20collaboration%2C%20and%20technology%20automation.