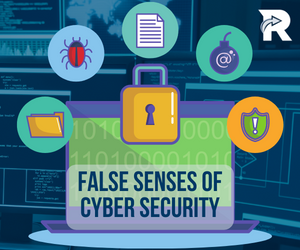 Overconfidence in cyber security can be cataclysmic in causing infiltration and breaches of protected information. Having a false sense of cyber security is dangerous, because one can never be careful enough. Cyber security is constantly changing and evolving, so one should always be striving toward a more secure cyber space.
"In September 2021, Rackspace Technology® conducted a global survey to discover the current state of cybersecurity across organizations, industries and regions. The study surveyed 1,420 IT leaders in a variety of industries, including manufacturing, finance, retail, government and healthcare across the Americas, Europe, Asia and the Middle East. The survey revealed what might be the biggest problem in cybersecurity today: current or future confidence is not backed up with a mature cybersecurity strategy. Respondents believe they either have cybersecurity "well-handled" now (45%) or will have it well-handled within three years (45%)." (Rack Space).
The issue is specifically evident for manufacturers, according to the Financial Times.
"In a survey of 350 industrial groups across Europe and the US, conducted by the Financial Times' Longitude research and consulting business, 75 per cent reported that they either knew of a cyber attack being mounted against their operations (40 per cent) or had knowingly avoided an attack (35 per cent). Among those that did suffer a cyber attack or data breach, nearly half said it dented their profits, while four in ten acknowledged there had been reputational damage as a result, and a reduction in sales." (Financial Times).
In addition to having a false sense of cyber security, manufacturers lack cyber hygiene.
"And 'cyber hygiene' — the carrying out of appropriate security practices — was found to be poor across companies of all sizes. Only a quarter made connecting via virtual private networks mandatory; only a third prompted staff to change passwords and demanded mandatory software updates; fewer than half backed up data regularly or arranged industry-specific cyber training." (Financial Times).
Few have a mature cyber security strategy, which is essential to having proficient cyber security measures.
"A mature cybersecurity program requires significant, ongoing attention to people, processes, and technology. Despite our participants' confidence in their ability to develop and execute cybersecurity strategies, the reality is that cybersecurity is not a mature, ingrained principle or culture within their organizations. The result is that organizations still struggle with implementing robust cybersecurity programs. They, by and large, still have an overly heavy reliance on aging, traditional methods of cybersecurity, rather than modern cloud-centric processes." (Rack Space).
Businesses should be constantly assessing cyber risks and security measures and fixing what is broken, rather than having confidence in a system that is outdated, or poorly functioning.
"Reasons for today's cybersecurity skills gap range from constrained budgets to the great resignation. But perhaps one of the biggest reasons for this gap is the simple fact that technology is accelerating faster than most companies can train internal IT staff to implement the cutting-edge technologies required to fight cyberthreats. That's where a good partner can help. But the process of selecting a security partner comes with its own requirements, including the need to evaluate your candidates to ensure they're keeping pace and can be more strategic in terms of your investment. It also requires that you make an honest assessment of where your gaps lie, and your access to resources as you face ever-growing, ever-scaling security challenges." (Rack Space).
Have any questions about cyber-security? Responsive Technology Partners is the leading cyber-security expert in the Athens, Metter, Milledgeville, Vidalia, and Atlanta, Georgia areas. We also have locations in Tampa, Florida, Roanoke, Virginia, and Raleigh South Carolina. Service offerings include I.T. support, cyber-security and compliance, telephony, cloud services, cabling, access control, and camera systems. Our company's mission is to provide world-class customer service through industry leading I.T. solutions that make every customer feel as if they are our only customer. Please visit our website to learn more: https://www.responsivetechnologypartners.com/.
Also, attend a Cyber Summit! Responsive Technology Partners hosts widespread Cyber Summits across all residing states, including Athens, Georgia on Friday, August the 12th . The summit is a Cybersecurity Seminar featuring experts in Homeland Security, FBI, Cyber Insurance, Email Phishing Attacks and more, addressing business's cyber protection concerns. All attendees will receive a comprehensive Network Assessment that will identify weaknesses in your network, cloud environment and policies & procedures valued at $2,500. The Athens Summit will be held in the University of Georgia Center for Continuing Education and Hotel on Lumpkin.
Sources: 
Rack Space. https://www.rackspace.com/solve/there-false-sense-security-cybersecurity 
Financial Times. https://www.ft.com/content/ff12d540-8bf7-4d8f-af25-7d49c20a6342