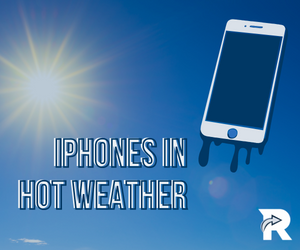 According to Apple, if your iPhone gets extremely hot or cold it can cause permanent damage to the battery life of the device.
"Use iOS and iPadOS devices where the ambient temperature is between 0º and 35º C (32º to 95º F). Low- or high-temperature conditions might cause your device to change its behavior to regulate its temperature. Using an iOS or iPadOS device in very hot conditions can permanently shorten battery life." (Apple).
They have made statements as to how to avoid getting your iPhone too hot or too cold.
"Apple has issued some some specific warnings for iPhones: Leaving the device in a car on a hot day, Leaving the device in direct sunlight for an extended period of time, Using certain features in hot conditions or direct sunlight for an extended period of time - GPS tracking or navigation in a car, graphics-intensive game, or using augmented-reality apps." (Daily Record).
Some things you might not think of contribute to the temperature of the device.
"People should also avoid putting iPhones in confined spaces such as under bed covers, in pockets or the glovebox of a car. If you feel your phone getting really hot, you should stop using it - or even turn it off. Powerful apps can also make the device heat up quickly, so quit the games and only use the phone for basic texting." (Daily Record).
"If your device has adaptive brightness it may increase the brightness to make the screen easier to read – but by doing that it's making your phone work harder and hotter. Turn adaptive brightness off and manually choose a lower brightness setting. It's wise to turn off anything you don't need, so for example putting your phone into airplane mode or disabling any game-phone acceleration will reduce the load on your phone's battery." (T3 News).
If the warning pops up, don't panic. There are steps you can take.
"If your phone is too hot, the worst thing you can do is put it in the fridge or freezer: that can cause condensation inside your phone, which you really don't want. And we wouldn't recommend dunking it in water either, even if it's water resistant. Let your phone cool naturally somewhere shady instead, ideally within range of a cooling fan." (T3 News).
Have any questions about cyber-security? Responsive Technology Partners is the leading cyber-security expert in the Athens, Metter, Milledgeville, Vidalia, and Atlanta, Georgia areas. We also have locations in Tampa, Florida, Roanoke, Virginia, and Raleigh South Carolina. Service offerings include I.T. support, cyber-security and compliance, telephony, cloud services, cabling, access control, and camera systems. Our company's mission is to provide world-class customer service through industry leading I.T. solutions that make every customer feel as if they are our only customer. Please visit our website to learn more: https://www.responsivetechnologypartners.com/.
Also, attend a Cyber Summit! Responsive Technology Partners hosts widespread Cyber Summits across all residing states, including Athens, Georgia on Friday, August the 12th . The summit is a Cybersecurity Seminar featuring experts in Homeland Security, FBI, Cyber Insurance, Email Phishing Attacks and more, addressing business's cyber protection concerns. All attendees will receive a comprehensive Network Assessment that will identify weaknesses in your network, cloud environment and policies & procedures valued at $2,500. The Athens Summit will be held in the University of Georgia Center for Continuing Education and Hotel on Lumpkin.
Sources: 
Apple. https://support.apple.com/en-us/HT201678#:~:text=Use%20iOS%20and%20iPadOS%20devices,can%20permanently%20shorten%20battery%20life. 
Daily Record. https://www.dailyrecord.co.uk/lifestyle/warning-every-iphone-user-heatwave-27507877 
T3 News. https://www.t3.com/news/5-ways-to-keep-your-iphone-or-android-phone-cool-in-extreme-heat