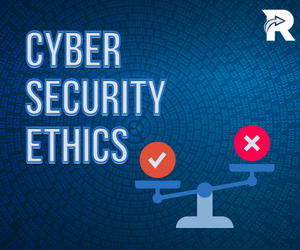 Every field comes with its own set of ethical practices, and cyber security is no different. Cyber security ethics may be overlooked, but it is essential to practice security in a manner that protects both the user and the provider.
"In computer security, cyber-ethics is what separates security personnel from the hackers. It's the knowledge of right and wrong, and the ability to adhere to ethical principles while on the job. Simply put, actions that are technically compliant may not be in the best interest of the customer or the company, and security professionals need to be able to judge these matters accordingly." (Reciprocity).
Fostering a culture of ethical practice in the youth is essential to the field.
"While a deeply integrated code of cybersecurity ethics and conduct is vital, it is also crucial to cultivate ethical teachings among students and young enthusiasts — the security professionals of tomorrow. By promoting awareness of cybersecurity ethics at the early stages of learning and professional development, we can help ensure that future white hats stay on the right side of the ethical divide." (Security Intelligence).
Ethical practice must be a requirement in the hiring process in the technology field.
"Many companies focus only on the technical abilities of a candidate for hire, but it's not enough that your staff have knowledge of technology and hacking techniques. They must also demonstrate the ability to maintain their moral standards while processing customer data or handling other grey areas of data management and cybersecurity." (Reciprocity).
Have any questions about cyber-security? Responsive Technology Partners is the leading cyber-security expert in the Athens, Metter, Milledgeville, Vidalia, and Atlanta, Georgia areas. We also have locations in Tampa, Florida, Roanoke, Virginia, and Raleigh South Carolina. Service offerings include I.T. support, cyber-security and compliance, telephony, cloud services, cabling, access control, and camera systems. Our company's mission is to provide world-class customer service through industry leading I.T. solutions that make every customer feel as if they are our only customer. Please visit our website to learn more: https://www.responsivetechnologypartners.com/.
Sources: 
Reciprocity. https://reciprocity.com/the-importance-of-ethics-in-information-security/#:~:text=In%20computer%20security%2C%20cyber%2Dethics,principles%20while%20on%20the%20job. 
Security Intelligence. https://securityintelligence.com/tough-challenges-cybersecurity-ethics/