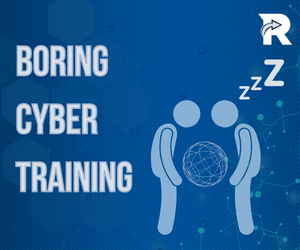 Cyber security training is viewed by many as "boring", according to Tessian. Having a disengaged audience during training sessions can lead to cyber-attacks through human error. It is detrimental to improve cyber training to make it more interesting for participants to avoid cyber-attacks.
"While cyber leaders overwhelmingly believe their organizations have a strong security culture, new figures compiled by email security specialist Tessian have revealed that they may be deluding themselves, exposing an alarming disconnect between security pros and the rest of the business." (Computer Weekly). "The report, How security cultures impact employee behaviour, found that while 85% of employees participate in security awareness or training programs, 64% don't pay full attention and 36% consider their organization's security training boring."
Cyber awareness becomes more and more crucial over time, with developments in sophistication of software used for cyber-crime.
"Not only has nearly every organization become completely dependent on technology, but technology also continues to become more complex. Securing today's systems, networks and data against cyber attacks is tougher than ever, with even more security technologies and processes needed to work in concert with each other. So, organizations need their cyber workforces to be larger and have a wider range of skills than ever before." (Tech Target).
There are a variety of solutions to take to improve cyber security training and cyber skills across the board.
"Tessian said there were several things security leaders should be doing to engage employees better with cyber security procedures. For example, security leaders need to play more of an active role at key touchpoints during an employee's "journey" with the organisation, such as onboarding, role or office changes, and offboarding. Tessian said onboarding new hires represents a great opportunity to capture people's imagination before they become cynical and jaded, while more thoughtful and comprehensive offboarding processes can help prevent critical data going missing when someone leaves." (Computer Weekly).
There are also outside resources that can help companies focus on maintaining a secure cyber front.
"Consider using managed security services, particularly for off-hours monitoring, analysis and incident response. Small organizations may want to outsource most of their security services altogether to reduce their need for dedicated cybersecurity staff and instead train their IT personnel to also handle occasional cybersecurity tasks." (Tech Target).
Have any questions about cyber-security? Responsive Technology Partners is the leading cyber-security expert in the Athens, Metter, Milledgeville, Vidalia, and Atlanta, Georgia areas. We also have locations in Tampa, Florida, Roanoke, Virginia, and Raleigh South Carolina. Service offerings include I.T. support, cyber-security and compliance, telephony, cloud services, cabling, access control, and camera systems. Our company's mission is to provide world-class customer service through industry leading I.T. solutions that make every customer feel as if they are our only customer. Please visit our website to learn more: https://www.responsivetechnologypartners.com/.
Sources: 
Computer Weekly. https://www.computerweekly.com/news/252523196/Cyber-security-training-boring-and-largely-ignored 
Tech Target. https://www.techtarget.com/searchsecurity/tip/Cybersecurity-skills-gap-Why-it-exists-and-how-to-address-it 
Tessian. https://www.tessian.com/