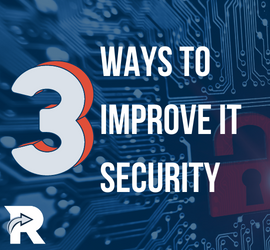 Cyber security is constantly evolving, and cyber security efforts need to be constantly improving to keep up with cyber criminals. Here are three ways to improve cyber security.
1. Early threat detection
Improving or implementing early threat detection will improve cyber security in your company. "The incentives that drive criminal chains across the globe indicate an urgent need for continuous, proactive threat monitoring and detection across the mainstream internet and dark web to protect identities and organizations." (World Economic Forum). Consult an IT professional to brainstorm strategies that best fit your company.
2. Evaluate security culture
Culture plays a huge role in cyber security solutions. "If you don't know where you are, then it's difficult to know where you're going. It is not advisable to influence your security culture without a thorough understanding of what it currently is (and what the social dynamics are). There are a number of things you can do to understand the current state of the security culture in your organization." (Spice Works). Analyze data, take surveys, and use culture maturity indicators to gauge where you are and where you need to go in regards to cyber security culture.
3. Regulatory adherence
An important aspect of cyber security is making sure that your company is in line with regulations. "If companies do not proactively protect their customers' and employees' identity-based data, they will likely be exposed to severe legal and financial penalties. To understand the potential ramifications, look no further than the US Security and Exchange Commission's recent fines against top companies for failing to safeguard proprietary data and customer identities." (World Economic Forum). IT professionals can help make sure every regulation adherence is up to date and valid.
Want to learn more about improving cyber security? Responsive Technology Partners is the leading cyber-security expert in the Athens, Metter, Milledgeville, Vidalia, and Atlanta, Georgia areas. We also have locations in Tampa, Florida, Roanoke, Virginia, and Raleigh South Carolina. Service offerings include I.T. support, cyber-security and compliance, telephony, cloud services, cabling, access control, and camera systems. Our company's mission is to provide world-class customer service through industry leading I.T. solutions that make every customer feel as if they are our only customer. Please visit our website to learn more: https://www.responsivetechnologypartners.com/.
Sources: 
Spice Works. https://www.spiceworks.com/it-security/vulnerability-management/guest-article/steps-for-creating-a-strong-security-culture-in-the-workplace/ 
World Economic Forum. https://www.weforum.org/agenda/2022/10/3-ways-protect-company-identity-based-attacks/