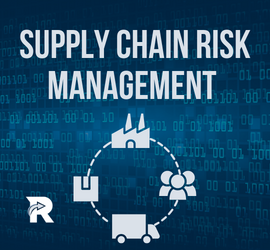 Supply Chain Risk Management involves protecting assets during times of difficulty in the supply chain. The supply chain includes being provided with resources such as food, water, and materials.
"U.S. companies are striving to comply with heavy economic sanctions and export controls imposed by regulatory bodies such as the Office of Foreign Assets and Control, European Union and other jurisdictions, which have further slowed the flow of goods and funds in and out of central Europe. Proper supply chain management, from acquisition of raw materials to delivery of product to final destination, has become a substantial issue for organizations globally." (Supply Chain Brain).
Cyber security is an essential part of supply risk management. The Office of the Director of National Intelligence has a guide to effective supply risk management.
"The exploitation of key supply chains by foreign adversaries—especially when executed in concert with cyber intrusions and insider threat activities—represents a complex and growing threat to strategically important U.S. economic sectors and critical infrastructure. Foreign adversaries are attempting to access our nation's key supply chains at multiple points—from concept to design, manufacture, integration, deployment, and maintenance—by inserting malware into important information technology networks and communications systems." (DNI).
There are many reasons a foreign entity would interfere in the supply chain.
"A supply chain risk is when the capability and intention of an adversary aligns with the opportunity to exploit a vulnerability. The consequence of this would allow the adversary to extract Intellectual Property (IP), sensitive government data, and personally-identifiable information. Further, such an action may allow an adversary to surveil, deny, disrupt, or otherwise degrade a component, system, or service. These actions may compromise the integrity, trustworthiness, and authenticity of critical ICT services and products." (DNI).
Similarly, there are many consequences to breaches of supply chain security.
"It's vitally important for companies to understand every touchpoint in their supply chains and third-party relationships, to ensure they don't link to transnational criminal organizations trafficking in war materials or money laundering. Those who fail to identify and manage illegal or unethical activity in their supply chains face increasing regulatory, reputational, financial and strategic risks." (Supply Chain Brain).
Supply Chain Risk Management must be made a top priority to avoid supply chain cyber-attacks.
"To advance supply chain integrity across the federal government, supply chain security must be elevated to a top priority and be present throughout the acquisition process. A robust SCRM program illuminates potential security risks and provides countermeasures to fortify the supply chain. Implementing SCRM programs across the federal government enables an integrated risk-reduction approach to protect supply chains critical to the U.S Government and private industry. Successful SCRM programs need enterprise wide commitment involving multiple disciplines, comprehensive information sharing, and adherence to best practices." (DNI).
Want to learn more about improving cyber security? Responsive Technology Partners is the leading cyber-security expert in the Athens, Metter, Milledgeville, Vidalia, and Atlanta, Georgia areas. We also have locations in Tampa, Florida, Roanoke, Virginia, and Raleigh, North Carolina. Service offerings include I.T. support, cyber-security and compliance, cloud-based POS systems and support, telephony, cloud services, cabling, access control, and camera systems. Our company's mission is to provide world-class customer service through industry leading I.T. solutions that make every customer feel as if they are our only customer. Please visit our website to learn more: https://www.responsivetechnologypartners.com/.
Sources: 
Supply Chain Brain. https://www.supplychainbrain.com/blogs/1-think-tank/post/36493-how-businesses-can-mitigate-risk-during-a-supply-chain-crisis 
DNI. https://www.dni.gov/files/NCSC/documents/supplychain/20200925-NCSC-Supply-Chain-Risk-Management-tri-fold.pdf