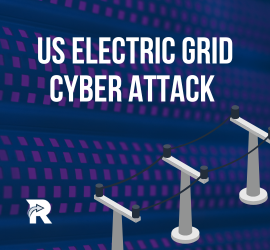 The United States electric grid is vulnerable to cyber-attack in a multitude of ways. Not only can cyber-attacks be detrimental to technological procedures but have physical consequences as well. Cyber security must be prioritized when it comes to the operation of the U.S electric grid.
"The threats can be from cybersecurity attacks (by countries, criminal gangs, or hacktivists), from physical attacks by terrorists (domestic or foreign) and vandals on utilities or power plants, or from an Electronic Magnetic Pulse (EMP) generated from a geomagnetic solar flare, or from a terrorist short range missile exploded in the atmosphere." (Forbes).
There have been substantial attacks on the U.S electric grid in the past. These attacks make clear the vulnerabilities that the electric grid is subjected to. With the substantial attacks against the electric grid, there must be emphasis on cyber security.
"The number of direct physical attacks on U.S. power grids soared 77 percent last year to 163, a record-high, according to the US Energy Department. Since last September, attacks were reported on 18 substations and one power plant each in Florida, Oregon, Washington and the Carolinas. The attacks underscored the vulnerability of the U.S. electric grid, which keeps electricity flowing across more than 470,000 miles of circuits and includes more than 7,300 power plants, 160,000 miles of high-voltage power lines and 55,000 transmission substations." (Trip Wire).
The importance of the U.S electric grid to the functioning of the country must not be underestimated. The electric grid has effect on the functioning of systems one might not originally expect.
"The U.S. Energy Grid serves as the backbone of energy infrastructure. Via the grid, electricity generated at power plants moves through a complex network of electricity substations, power lines, and distribution transformers before it reaches customers. In the United States, the power system consists of more than 7,300 power plants, nearly 160,000 miles of high-voltage power lines, and millions of low-voltage power lines and distribution transformers, which connect 145 million customers. U.S. Energy Information Administration - EIA - Independent Statistics and Analysis." (Forbes).
There are many reasons that the U.S electric grid is increasingly becoming vulnerable to cyber-attacks, including the reworking of the way the electric grid functions. The merging of technology and physical infrastructure leaves way to new opportunities for cyber criminals.
"The new reality is that most of the U.S. Energy Grid critical infrastructure components operate in a digital environment that is internet accessible. The trends of integration of hardware and software combined with growing networked sensors are redefining the surface attack opportunities for hackers." (Forbes).
However, there are ways to combat these vulnerabilities. Cyber security measures must be prioritized in the operation of the U.S electric grid. There are many ways to do this including improving cyber security software and hardware, as well as training employees on cyber hygiene.
"There are many ways to help mitigate threats to the energy infrastructure from cyber, physical and existential causes. Some of those include: shielding and hardening targets—grid protection by protecting against surges and voltage; decentralization and employment of off-grid or "distributed-grid" networks; phased voltage stabilization systems and resistors for redirecting and balancing energy; mandating enhanced security standards, training and contingency planning, and establishing mechanisms for sharing information on vulnerabilities and threats." (Forbes).
Want to learn more about improving cyber security? Responsive Technology Partners is the leading cyber-security expert in the Athens, Metter, Milledgeville, Vidalia, and Atlanta, Georgia areas. We also have locations in Tampa, Florida, Roanoke, Virginia, and Raleigh, North Carolina. Service offerings include I.T. support, cyber-security and compliance, cloud-based POS systems and support, telephony, cloud services, cabling, access control, and camera systems. Our company's mission is to provide world-class customer service through industry leading I.T. solutions that make every customer feel as if they are our only customer. Please visit our website to learn more: https://www.responsivetechnologypartners.com/.
Sources: 
Trip Wire. https://www.tripwire.com/state-of-security/problem-us-power-grid-its-too-vulnerable-attacks 
Forbes. https://www.forbes.com/sites/chuckbrooks/2023/02/15/3-alarming-threats-to-the-us-energy-grid--cyber-physical-and-existential-events/?sh=64cb1f50101a