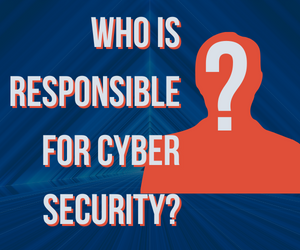 It is debated whether the responsibility of maintaining cyber security belongs to leaders or followers. Some say, it is the responsibility of both. Security maintenance is not solely reliant on leaders, the responsibility belongs to everybody. 
"By recognizing that cyber security is everyone's responsibility and that employees are a crucial part of an effective cyber security strategy leads to the concept of the human firewall. This is an idea that is based on enabling employees to act as a shield against human-focused cyber-threats." (Meta Compliance). 
Security breaches in the corporate realm often are the result of human error.  
"Researchers at Stanford University found that 88% of security breaches had an element of human error with employees often being unwilling to admit mistakes. The report also identified phishing emails as the cause of 25% of breaches, with phishing scams catching out employees using social engineering and psychological tricks to manipulate behaviour." (Meta Compliance). 
It is also the citizen's responsibility to educate and protect themselves against threats, even if they do not work in corporate organizations. 
"Every day we see how cyberspace increasingly shapes our personal and professional activities. From the kitchen table to the office, from online banking to interactions on social websites, cyberspace is woven into the fabric of our daily lives. We greatly enjoy the benefits and convenience of the Internet, but such convenience and instant access comes at a price... That is why it is critical that all Internet users understand the nature of these cyber threats and the importance of practicing safe online behavior." (Energy.gov). 
With increased cyber hygiene, leaders, employees, and citizens alike can create a "human firewall" to prevent cyber-attacks against people and organizations. October is national cyber security month, but the sentiment can be carried throughout the rest of the year.  
"National Cyber Security Awareness Month reminds us that being safer and more secure online is a shared responsibility. All users of online systems and platforms play a crucial role in securing their personal and professional corners of cyberspace. By taking this responsibility seriously, all citizens can work toward a cyberspace that is safer and more resilient, and that remains a source of tremendous opportunity and growth for years to come." (Energy.gov).  
Have any questions about cyber-security? Responsive Technology Partners is the leading cyber-security expert in the Athens, Metter, Milledgeville, Vidalia, and Atlanta, Georgia areas. We also have locations in Tampa, Florida, Roanoke, Virginia, and Raleigh South Carolina. Service offerings include I.T. support, cyber-security and compliance, telephony, cloud services, cabling, access control, and camera systems. Our company's mission is to provide world-class customer service through industry leading I.T. solutions that make every customer feel as if they are our only customer. Please visit our website to learn more: https://www.responsivetechnologypartners.com/. 
Sources: 
Meta Compliance. https://www.metacompliance.com/blog/why-cyber-security-is-everyones-responsibility/#:~:text=By%20recognising%20that%20cyber%20security,human%2Dfocused%20cyber%2Dthreats. 
Energy.gov. https://www.energy.gov/articles/cybersecurity-every-citizens-responsibility