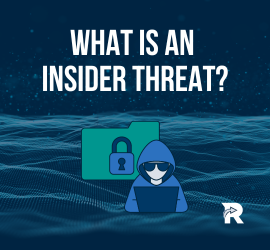 You may have heard the term "insider threat" float around conversations surrounding cyber security. The term is broad, and the definition ropes in cyber security threats you may not know are considered insider threats.
Insider threats, in fact, include any breach or cyber security vulnerability that originates from within the organization. Here are some examples of insider threats.
Intentional Threats:
Intentional insider threats include an employee or someone else who generally has access to data and information for the company or organization that intentionally and maliciously alters or leaks data.
"Their actions can include leaking sensitive information, harassing associates, sabotaging equipment, perpetrating violence, or stealing proprietary data or intellectual property in the false hope of advancing their careers." (CISA).
Insiders who carry out intentional cyber-attacks against the company must suffer the consequences of their actions and their crimes. Usually, it is pretty simple to determine who the insider threat was. Receive the help of an IT service-provider for help detecting insider threats. There are cyber security measures that can be put in place to prevent intentional insider threats.
Unintentional Threats:
Unintentional insider threats include uneducated insiders who make genuine mistakes that lead to real consequences. Cyber hygiene is extremely important when wanting to avoid unintentional insider threats.
"Negligent insiders are generally familiar with security and/or IT policies but choose to ignore them, creating risk for the organization." (CISA). There are also accidental insider threats who are not necessarily negligent. "Examples include mistyping an email address and accidentally sending a sensitive business document to a competitor, unknowingly or inadvertently clicking on a hyperlink, opening an attachment in a phishing email that contains a virus, or improperly disposing of sensitive documents." (CISA).
To avoid unintentional insider threats, implement mandatory regular cyber security training. With the help of an IT service provider, your training sessions can be top-notch. Prioritize cyber hygiene education in the culture of the company or organization.
Collusive Threats:
Collusive insider threats include the collusion of insiders with outsiders to carry out cyber-attacks. They are also considered a type of insider threat.
"These incidents frequently involve cybercriminals recruiting an insider or several insiders to enable fraud, intellectual property theft, espionage, or a combination of the three." (CISA).
To avoid collusion, educate, protect, and respect your employees within the company culture. Implement regular cyber security training sessions and establish trust with your insiders.
Third Party Threats:
Third party threats include insiders who would not typically be thought of as insiders. These threats are still insider threats.
"Additionally, third-party threats are typically contractors or vendors who are not formal members of an organization, but who have been granted some level of access to facilities, systems, networks, or people to complete their work." (CISA).
To prevent third party threats, limit and evaluate who you let access data and information. With the help of an IT service provider, cyber security measures can be put in place to prevent third party insider threats.
Responsive Technology Partners is the leading cyber-security expert in the Athens, Metter, Milledgeville, Vidalia, and Atlanta, Georgia areas. We also have locations in Tampa, Florida, Roanoke, Virginia, Raleigh, North Carolina and San Antonio, Texas. Service offerings include I.T. support, cyber-security and compliance, cloud-based POS systems and support, telephony, cloud services, cabling, access control, and camera systems. Our company's mission is to provide world-class customer service through industry leading I.T. solutions that make every customer feel as if they are our only customer. Please visit our website to learn more: https://www.responsivetechnologypartners.com/.
Sources: 
CISA. https://www.cisa.gov/topics/physical-security/insider-threat-mitigation/defining-insider-threats